I'm looking for players to test-play a variant I'm working on as a personal project. I plan to GM. This is a work-in-progress for two reasons; first, I probably would change the map after one game to reflect problems encountered.
Second, this is a variant based on the universe of David Weber's Honor Harrington series. All place names, universe, etc. are his IP; my map is based on the (fan-made) map
available on wikipedia
. As such, 1) my opinion is not final and 2) as the series is ongoing, more information will be revealed which will necessitate changes
(For example: In the first books, we know almost nothing about the Solarian League. We now know that it's pretty much bigger than everybody else put together - in fact (and this is simplifying) my "Maya Sector" and "Mesan Alignment" are basically factions within the league, and the "Talbott Cluster" lives in its shadow. But we still don't know enough about the league to really fill in its geography properly. Future books may enlighten the subject, and will likely result in adding 2 or 3 (or four or five) factions either within or to to entirely replace the League.)
Although my map is currently an amalgamation of information as positions from the 20-30 years the books now span, I'm going to make an executive decision: moves will start (as usual, entertainingly enough) with Spring 1901, when the first of the books starts. (It's a different dating system in the series, yo.)
Map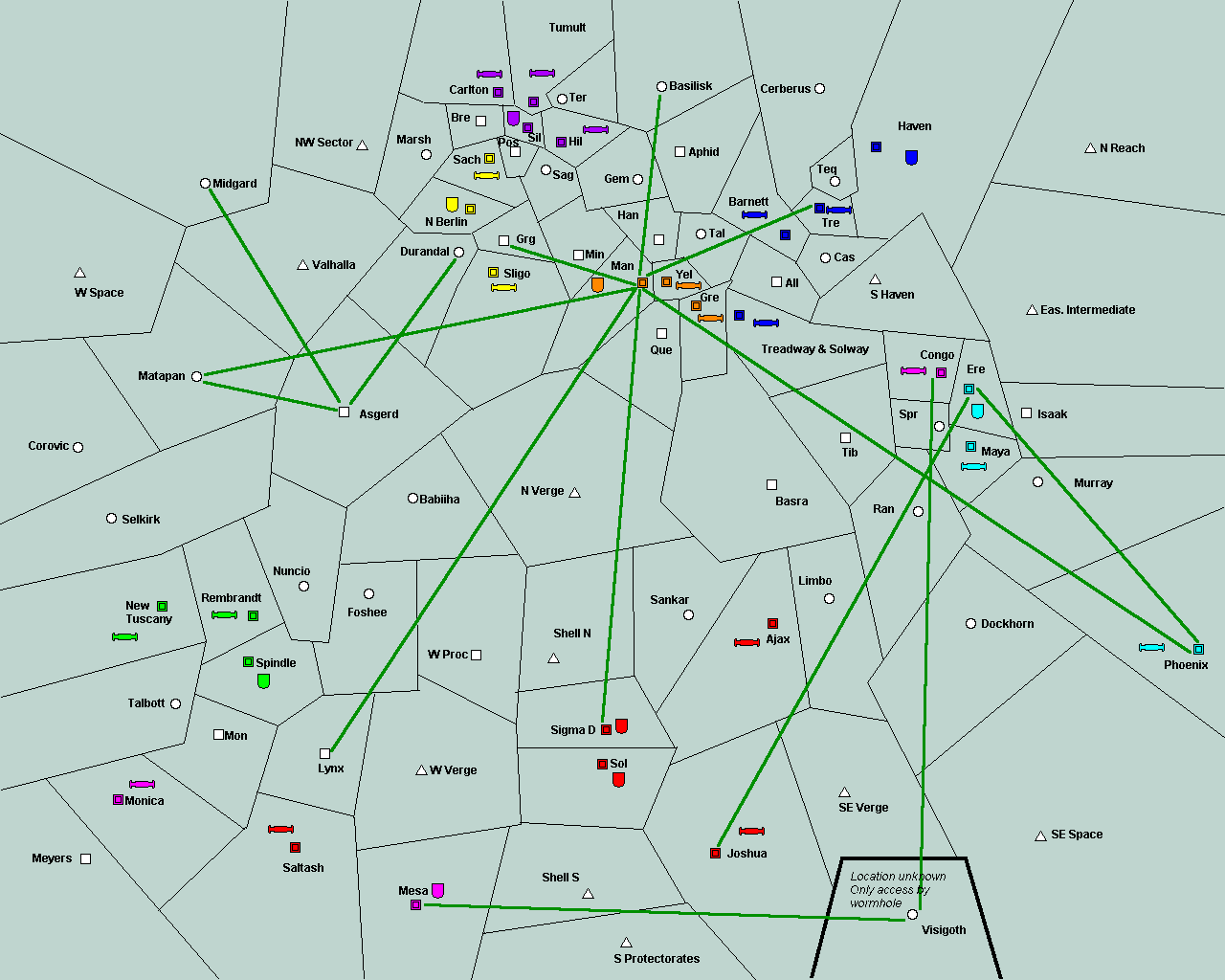 Board
(8)
Anderman Empire (yellow; 3 home SCs; 1 fort, 2 fleets)
Republic of Haven (blue; 4 home SCs; 1 fort, 3 fleets)
Kingdom of Manticore (orange; 3 home SCs; 1 fort, 2 fleets)
Maya Sector (cyan; 3 home SCs; 1 fort, 2 fleets)
Mesan Alignment (pink; 3 home SCs; 1 fort, 2 fleets)
Silesian Confederacy (purple; 4 home SCs; 1 fort, 3 fleets)
Solarian Leage (red; 5 home SCs; 2 forts, 3 fleets)
Talbott Cluster (green; 3 home SCs; 1 fort, 2 fleets)
28 Home SCs total
16 other SCs
--
44 total SCs; 23 to win
--
38 other territories
--
82 total territories
Rules
All rules as normal Diplomacy, except for the following variations due to the setting:
Territories
Three kinds: Supply Centers (indicated by a square marker), and Planetary (circle) and Space (triangle) territories.
Units
Fort: this is a variant-specific unit. Special rules:
Can be constructed in any SC or Planetary Territory (but not Space Territory) you occupy
Defends (holds) territory with a strength of 2
Cannot support adjacent territory (but can be supported)
Cannot move.
Fleets: standard Diplomacy unit, except:
First
, a player's (single) fleet may occupy a territory also holding a fort belonging to that player.
Second
, there are certain routes, or "wormholes", which allow movement between territories, with all rules applied as if they were adjacent.
Third
, there is the following additional move option, "Translate".
A fleet may be ordered to "translate", that is, to move a certain distance "off the board" through warp.

A. Any time may be specified, and any destination normally reachable in that time may be given. The translation fleet is not subject to any hindrances during movement, but may be bounced at the destination.
A.1. Any translation order given for a destination, with a time specified too short in which to make the journey, will have the time automatically extended to whatever number of seasons is necessary.
A.2. A translation order may not require any wormhole transit to achieve the ordered time. If any such order is given, the destination will remain but the time will automatically become the shortest necessary to travel the distance under normal movement.
B. A fleet attacking from translation may be supported to its destination in the season it arrives.
C. If the move to a territory is bounced at the time of arrival, a translating fleet must retreat to a territory adjacent its destination, or disband.
D. Destination and length of translation should be ordered initially and may not be changed during transit. Neither destination nor length of travel will be revealed publicly
E. If no time is specified but a destination is, the translation will take as long as the shortest normal move to that territory. This cannot be changed.
F. If a fleet is ordered to translate with no destination, it is assumed to remain "over" its territory of origin until given other orders, but is "off the board" until they take effect.
F.1. If a fleet with no destination is ordered to maintain translation for a certain number of seasons, it will automatically be returned to the board at its origin after that time is up. If its way is blocked by another fleet, it must retreat to an adjacent territory or disband.
F.2. A fleet ordered to translate with no destination may afterwards be given orders to either proceed for a certain time and destination, or to support its territory of origin (but no other territory), or to return to "on the board" at its origin (subject to possible bounce & retreat), or be given a normal move order.
F.2.b. A translated fleet ordered to support its territory of origin is returned to the board if that territory is attacked. At the end of the season, if another fleet occupies that territory, or if the territory contains the fort of another power, the previously-translated fleet must retreat or disband.
G. A translated unit, unless still "over" its territory of origin,

may not

be disbanded.
G.1. A power whose translated fleets not over origins outnumber its SC count retains those fleets until they return to the board.
Examples:
(Using fleet Hil) Notice that normally Hil cannot reach Durandal because there are Andermani units in the way. The Silesian player could however order "Hil translate to Durandal, 3 seasons" (or "Hil T Durandal 3).
A. If for some reason he wanted to take longer, he could indicate a longer number of seasons in his initial order, for instance "Hil T Durandal, 4)
A.2. A move order of "Hil T Phoenix, 4" would be invalid, as 7 seasons for that movement are required unless wormholes are used. The fleet would be "off the board" for 7 seasons while making the journey.
B. The Silesian player could order Carlton -> Marsh -> Valhalla and in the third season order Carlton S Hil (T) -> Durandal.
C. Assume an unsupported Hil reaches Durandal and meets a move such as Sligo -> Durandal. This will bounce. Sligo will return to Sligo, and F Hil (T) must retreat to a territory adjacent Durandal, for instance to Asgerd.
E. If the order given is "Hil T Durandal", it will take 3 seasons.
F. The order "Hil T" will take Hil "off the board" but it is assumed to remain "at" Hil.
F.1. If the order were "Hil T 4", it would be returned to the board at Hil (assuming no retreat) after 4 seasons.
F.2. If given the order "Hil T 4", a season later the player might order "Hil (T) -> Gem", or even "Hil (T) -> Gem 2". A translated fleet is assumed to remain translated until it reaches its destination.
G.1. And yes, this means a player facing elimination can simply order all remaining fleets to scatter on his (otherwise) last turn, and hope. To mix metaphors, or at least universes, wildly, I call this the "Renegade House" rule, but it's an inevitable consequence of not being able to affect translated units' movement orders in any way.
I have attempted to make the above as clear as possible. If you have further questions, please ask. If you ask a question, please come up with an example scenario.
Players:
1. vaderi
2. mat.gopack
3. Palin
4.
5.
6.
7.
8.
Reserve:
1.
2.
3.