AAR part 2
Spring 1905: France asks me to tap Germany in Berlin. I do so. I actually forget why I tried to bounce Silesia. In retrospect, I think that I'd have been somewhat better off holding Warasw and then moving south if needed in the fall (if Austria takes say Romania in the fall... do I really care?)... oh well I guess
Fall 1905: Honestly, here is where I could have and probably should have gone for the solo. Serbia, Vienna, and Denmark gave me 12. BLA-Ank, Sil-Berlin supported by Baltic (Sweden to Denmark instead) give me 14, and THAT would have been a position to run the board at (debatably I could have gone Bulgaria-Greece supported by Serbia too for 15).
I think with THAT position, I'm pretty close to unstoppable for the solo, with a 2-way draw arranged with France a pretty realistic backup). But I wasn't really thinking in those terms there… and so be it.
Once that opportunity passed me by, it was a hard sell to try and solo with F STP NC build, and a much harder one without it.
As for what happened preceding the turn itself, France had spent a substantial amount of time pretty hard pushing the 2-way draw idea, and I kept being uncomfortable with it, rolled it around in my head and sent, the following message:
(timestamp Apr 03 2018 21:30 (GMT-7) )
I th8nk I'll defer to you on this one. I'll withhold aid from Italy this turn (easily explainable via the need t9 protect against Austria's Galicia army) and hell just grow one unit in Greece. If yiu want to take a shot at glory I'll work to roll him in the south and we can negotiate a two way split. If you'd rather take the bird in the ha d that's fine too, I'm a flexible guy

Sorry about delay in response I got lazy for a bit.
Orders got processed TWELVE HOURS LATER
Fall 1905 Orders Apr 04 2018 11:15 (GMT-7)
From my message to orders being confirmed I heard NOTHING from France. I even had a work meeting that took place when orders processed, and looked at my inbox to see if anything important came in. Possibly I should have pinged for confirmation or something, but I honestly wasn't thinking about it much, just assuming it was probably going 3-way while taking some defensive moves in case France tried to mess with me (possibly his continued radio silence influenced that casll? in fairness i forget that this point *shrugs*
So the answer to "how much was smith thinking about the details of the moves in the context of France seriously going for a 2-way draw"… the answer is not much. "Yeah we can do it if you want" -> gets no confirmation of 2-way draw, gets no confirmation of what moves we're supposed to do
I mean, honestly what I should have been doing THAT turn was going hard for the solo chance and immediately apologizing to I/F if the results made it not easy to grab the solo. That was the golden chance, which I didn't take, in large part because I simply wasn't thinking in terms of aggressively going for the solo (or even the 2-way draw tbh).
I'll certainly say that France put no real effort into making sure that there was clear expectation around who was doing what in Fall 1905. He'd said what he wanted, but never confirmed that I agreed or even understood broadly. I'd explicitly promised one thing (withholding aid from Italy) and then he presumed that my acceptance of the 2-way draw possibility meant that I'd agreed to his full moves suggestion, despite my never saying so, and him never confirming he was going for the 2-way, or really anything that I'd have expected to happen given a major change in the board state and a 2-way attempt.
And then after he basically declared that he couldn't trust me (not super fair), that I was too far ahead of him (debatable though at least a defensible assessment), and I basically went into "ok let's just take the 3-way" mode.
Winter 1905: So this was really the last chance for me to try for glory... and F/I basically talked me out of it. Possibly this was wrong... although I think that England's fate from round 1 (where he stabbed me and openly tried for the solo or at least draw whittling... and instead F/A/R knocked him out of the result entirely) entered into my thinking (learning from others' misfortunes is more fun than learning from your own
), i think there was also some burnout involved (more from the round 1 game than this one tbh... but that one was EXHAUSTING), as well as some real life commitments. Anyway, that's kind of my headsapce, wtih the tactical details as discussed.
Spring 1906: Once I didn't build in STP, there wasn't much chance of a solo effort. If I make the most optimistic assumptions possible (including full control of Germany and Turkey, an assumption I wasn't remotely comfortable making)…
Do that and I can potentially add Tri, Greece, and Turkey's centers by the end of 1907… but Norway falls most of the time without F STP NC going to Barents and being a shield. Sweden, Denmark, and eventually the German centers are difficult to hold (though in fairness, not impossible)… and it struck me as a long hard slog to get to 18, with very realistic chances for G and/or T to switch sides at a number of points. Certainly if ever it turned into "Russia vs 4" I was going to lose, and once I started getting rolled back, I could lose it all... and I didn't want that risk.
I think there's also a pretty strong element of simply not trusting nearly eliminated powers to either be honestly representing the board state, or to be truly committed to throwing the solo to me. I think part of it is that in the shoes of Germany or Turkey, I'd be telling Russia "oh yeah I'm gonna help you solo" while at the same time either working I/F to try and get into the 3-way if Russia gets pushed back, or at least trying to set up a moment where I can stab for maximum effectiveness (Germany in particular had options there IMO). And Russia, at just 12 units, with questionable cooperation from the two rump powers on the board… it was dangerous for me, a risk I wasn't really comfortable taking. If I wanted the risk, I'd have gone for the home run in fall 1905 moves, or at least build F STP in winter 1905. By the time spring ran around, it was looking like a really hard effort, with potentially unreliable allies, and a major risk of an outright loss, in a situation where I'd virtually guarantee non-relegation simply by getting the 3-way draw (it definitely wasn't a full guarantee, particularly with poor supply center tiebreakers… but it's fairly unlikely that I get relegated with this result).
I could go back and more fully re-evaluate my thought process, but I really do feel like I said a lot of what I was going to say in public press at the time.
Anyway, the moves: I do exactly what I said I was going to do (note that Mos-Liv made a lot of sense if Germany was going to try something, while making very little sense as a measure of defense in Scandinavia… again, a window into my thinking fwiw). Turkey starts getting angry, I start taking shit in public press, and I start to not care about the game since it became increasingly unpleasant.
Fall 1906: I continue doing what I said I was going to do, and we move towards an endgame state.
Winter 1906: France betrays any reasonable expectation of moves from a commitment to the 3-way draw state. Italy doesn't seem to care. Joy.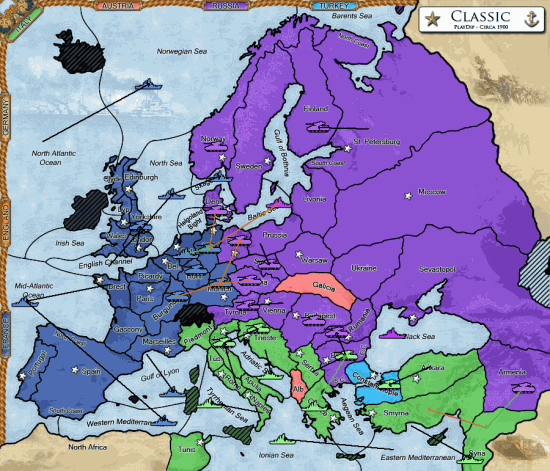 Sprign 1907: I practically beg Italy to move into Pie. Does he? Lolno. I also beg him to move to TYS/ION since France in Tunis means he can solo. Italy does so while making an apologetic note to France on the subject. Damned if I know why obvious defensive moves are something to be worried on.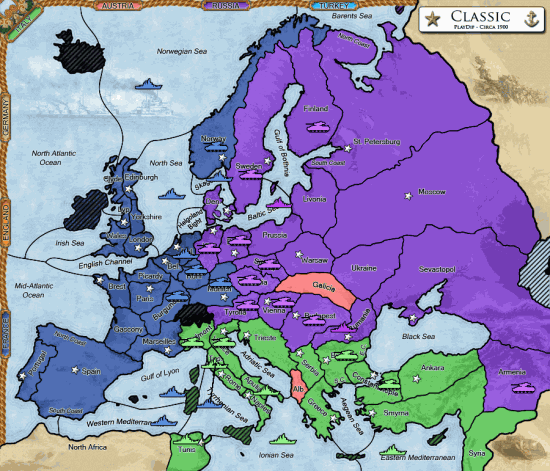 Fall 1907: Going into this turn, I induce France to openly admit he's violating our agreement (oddly, he doesn't go for gold and run Hol-Helgo – in for a dime, in for a dollar, right? At any rate, Italy FINALLY occupies Pie, and has enough fleets west enough to stop France. I actually think about swiping an Italian center in Smy or Ank for tiebreakers, but figure that being united against France was way more important here. Amusingly, I think that had France been more aggressive in spring, I lose at least Denmark and Kiel… I don't really understand why he wouldn't try harder for a possible breakthrough, but I guess that he was worried that if he went too aggro and failed, R/I might fight him for the result and maybe take the 2-way from him? Certainly he wasn't past the Versailles line anywhere, and Italy had enough fleets with double Rome/Naples builds to completely force him back in the Mediterranean (and while France could roll me up in the north, it wouldn't be FAST; I could defend STP with A Fin in the spring, and potentially build A Mos in the winter after taking Munich (which France couldn't hold). And that basically creates the south/eastern stalemate position, presuming that I could stay on good terms with Italy.