AAR by AKFD:
155985. April Fools Shift 2019
Game type: Versailles/Public Press Only/Fog Of War
Which countries were I playing:
Britain/Romania
Now, before we start this lengthy AAR, we need to know how does a Shift game work. In shift games, you start off as a country but your starting positions are in another country. You own those supply centers of the other country, but you cannot use them. So, to build, you have to get to your home country before you lose your supply centers in the other country.
Shift positions work like this in Normal Diplomacy:
The Country you're Playing ----- The country you get Shifted at
Austria ----- England
England ----- Italy
France ----- Austria
Germany ----- Turkey
Italy ----- Russia
Russia ----- France
Turkey ----- Germany
For Versailles,the majors are shifted the same except with Poland taking Austria's spot and France getting shifted to Poland instead.
As we all know, Versailles has minors. Here are where the
minors get shifted:
The Country you're Playing ----- The country you get Shifted at
Czechoslovakia ----- Greece
Egypt ----- Yugoslavia
Greece ----- Spain
Romania ----- Egypt
Spain ----- Czechoslovakia
Sweden ----- Romania
Yugoslavia ----- Sweden
Anyways, enough mechanic talk. Let's get to the actual AAR:
The Early Years and getting home (1930-1935):
Finding my major in Italy and my minor in Egypt, I began prioritizing my major by building fleets in Rome and Naples to get home to Britain, since England is a fleet country like Italy. I did the same for Romania, by building a fleet in Cairo, hoping to pass through Constantinople to get to the Black Sea and Romania. Remember, this is a fog of war game. So I had no idea how the board looks like except for my bordering provinces. The Public Press was a very important communication tool to use, because it helped us arrange ways to get to our lovely homes. The very first country that made negotiations with me was USSR, and he was talking of way we can get home. Thankfully, he was shifted to France, which happened to be next to me. This will prove useful later. So, normally, I would go west as Britain. And so I did. I built an army in Trieste to move to Piedmont, as my plan was to get it to Picardy and convoy it to London if my fleets make it to the English Channel. Now, back to the fleets. Whoever is in Spain could become an obstacle to getting home. So I requested in the press to see if I could find out whoever is in Spain, and then make negotiations with him. Thankfully he replied to me and we made agreements on where to go.
Map by Fall 1931: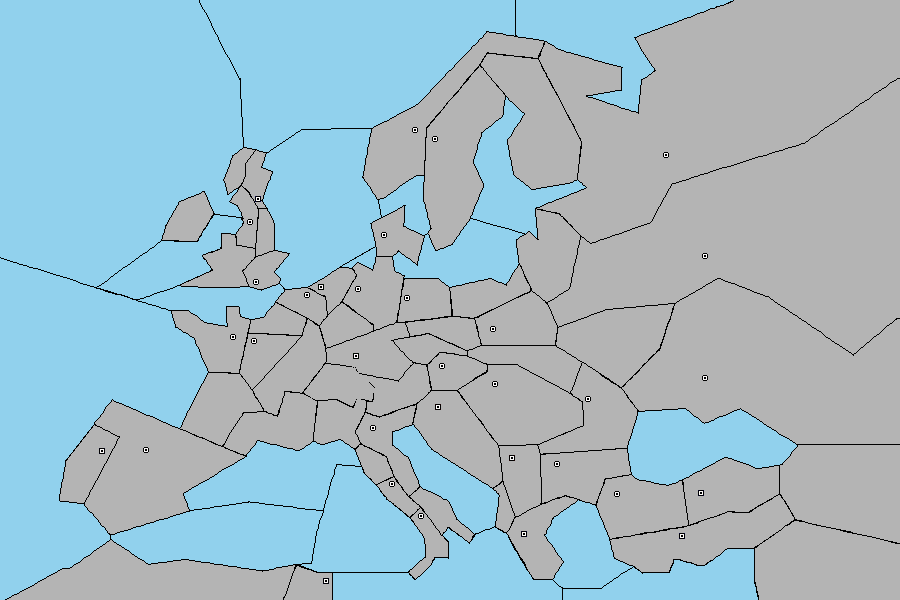 Now, Greece and I made a bounce in the Tyrrhenian Sea, so we debated on who will go to the Tyrrhenian. As for my minor, I really couldn't go to Constantinople and my minor would meet its demise a few phases later. Back to England, it was decided that I would take Tyrrhenian in 1933. This would enable me to get to the Sea of Gibraltar, which for me was the best move I did in the early years. This would ease the journey home. Back in Romania, I tried moving to Smyrna but got bounced and Germany entered Romania, effectively killing it.
Note that I won't talk about the rest of the map because this is Fog of War, and I really didn't know what was happening outside my borders. Now if you notice, my army in Piedmont hasn't done anything in 2 years. So I executed my plan and asked permission from USSR in the press to move to Marseilles to get to Gascony. USSR accepted, and I moved to Gascony by Fall 1934. Oddly enough, the press was quite inactive around this time, so I took the initiative and just messaged USSR in the Press. He accepted, and I moved there.
Map by Fall 1933: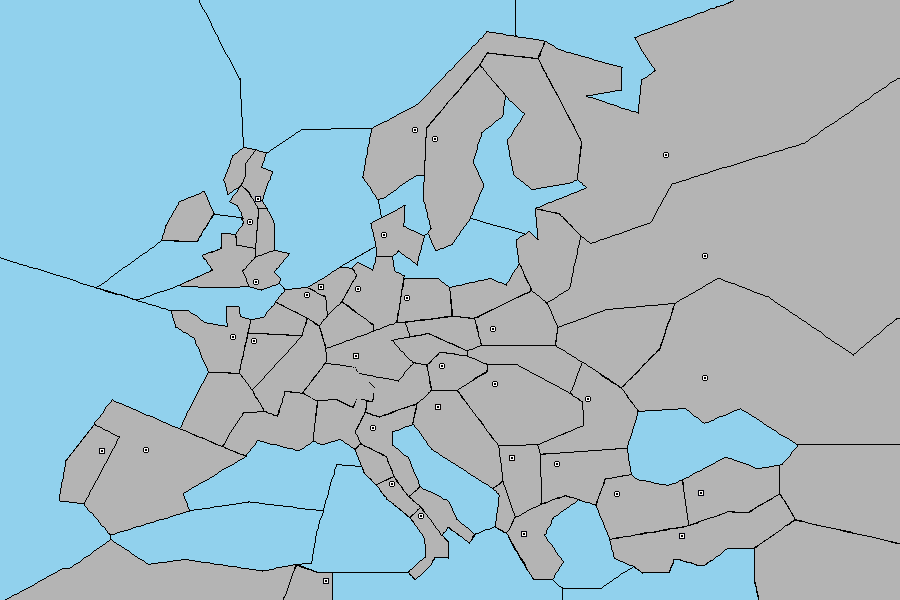 Now, this made everything a whole lot easier. I got to home by 1935, which was very fast to be honest. Now, my army in Gascony was at Burgundy at this moment, ready to assist a French assault after some discussion in the press. And my style of play would change in the later years.
Note: Anonymous was me.
Map by Spring 1936: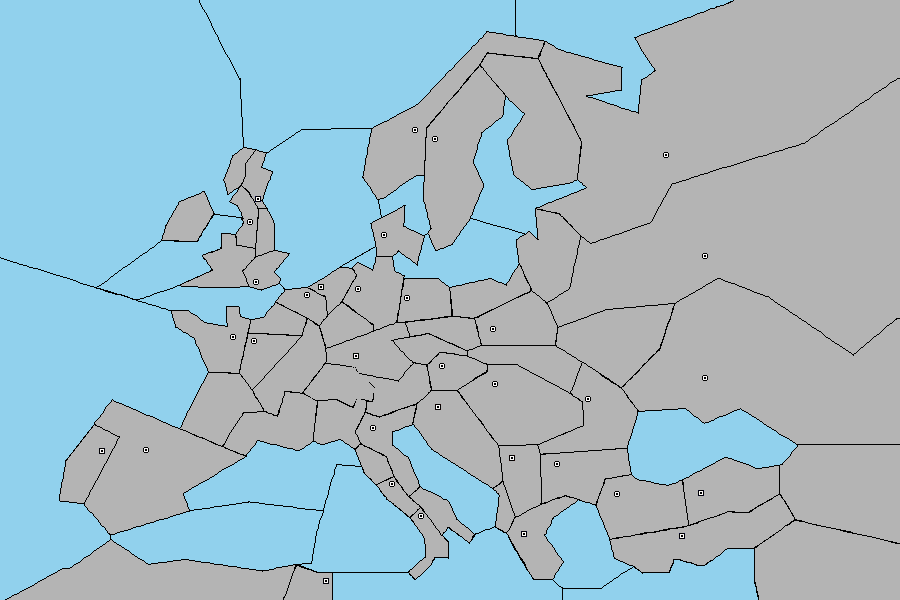 Figuring out who the solo-threat was (1936-1942):
USSR has told me in the press of the "Italian threat" and how Sweden has ruled his region. As you can see in the Spring 1936 map, he was correct, but again, this is Fog Of War, so I cannot verify. But to assist him, being the loyal person I am, I moved my fleets to Scandinavia and I was shocked by what I found: Sweden ruling the entire Scandinavia. Germany seconded the Swedish/Italian threat by responding that "Sweden/Italy is a killer". Then, USSR called for an anti-Italian/Swedish alliance. Then, I responded.
It was around 1938 when Spain messaged me in the press, offering options for an alliance. By this time, me and Germany were allies as well by our moves together on taking down the Swedish threat. Although a bit of tension rose when I moved into Belgium, the last space of his minor, Yugoslavia. But that's it. Tensions were rising because Sweden, Italy, USSR and Germany kept hurling accusations at each other. And to be under the radar, I decided that any message replying to these has to be kept under anonymous.
Map by Fall 1940:
I noticed something. I noticed that there was an Italian fleet in Sweden. And based on Versailles rules majors can occupy minor home SCs and still retain possession for the minors. This only meant 1 thing. Italy's minor was in fact Sweden. This lead to a new scrutinization phase in the game:
Figuring out the major-minor pairs.
Without me knowing, I have accurately guessed the pairings but since this is Fog Of War, I cannot really prove it. Most of my speculations were confirmed though by my fellow players.
A message that I sent:
Another thing that was scrutinized is how many SCs Turkey truly has. As the Italian/Swedish threat was diminishing because of my Scandinavian efforts, we began to find out who was the next solo threat. But first, we had to find out who was left in the game. 9 countries were left, all majors except Poland plus Sweden, Spain and Greece. Turkey, being the expert diplomacist he is, has convinced us still that Italy is the threat, and Italy even confirmed that he had Sevastopol. For a while, I thought USSR and Turkey would be allies again.
It would be in the year 1942 that Spain would let me pass through the Mediterranean to scout what happened to Italy. This would be a good move, and we will see why in the coming years.
Map by Fall 1942: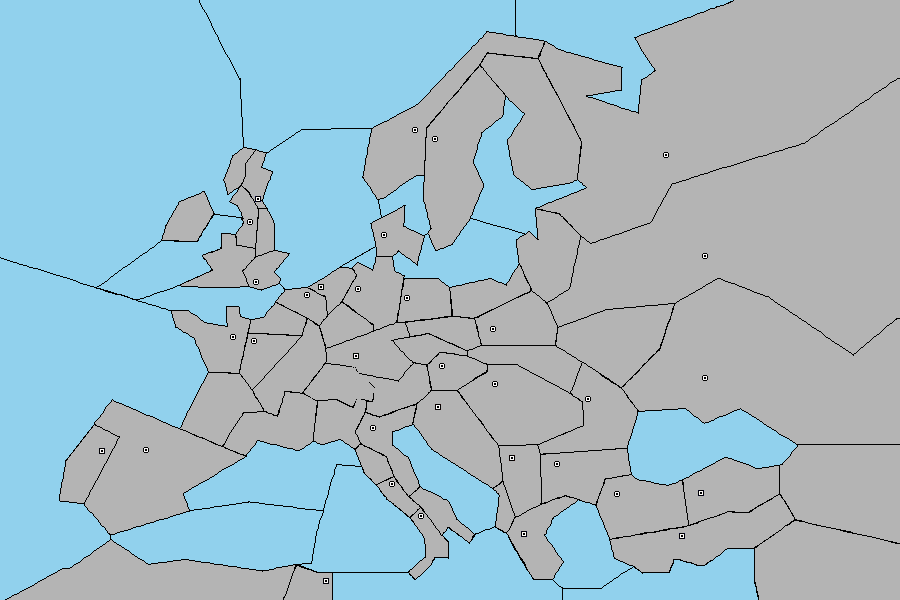 I thought you just wanted to scout... (1943-1944):
Remember how I told you that USSR and Turkey were gonna be allies? Oh, that was bad. Really bad.
I apologize if the quality sucks.
Remember that the minor speculation was hard to believe? This happened:
Map by Fall 1943: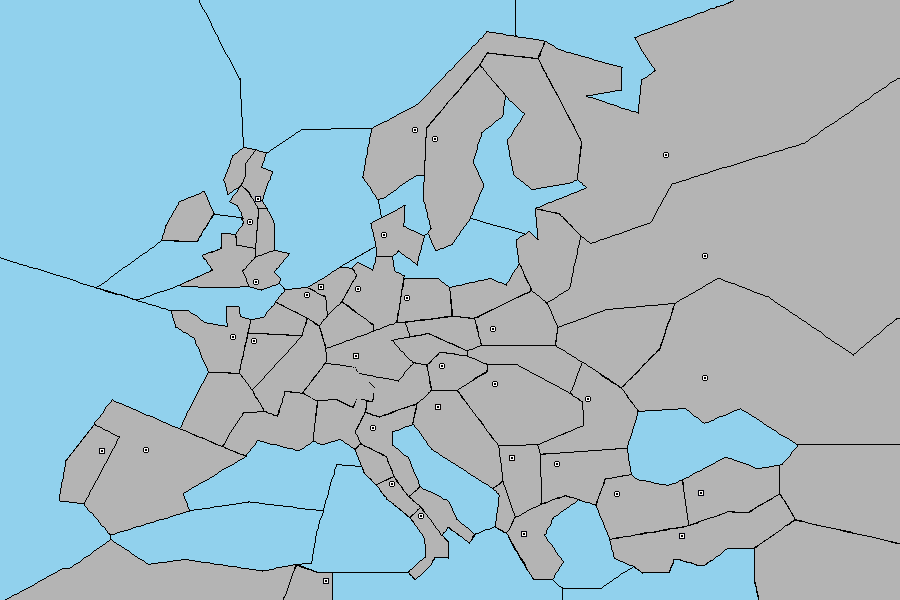 Now, that master Diplomacist Turkey was able to convince USSR to go for me and take all my Scandinavian holdings. By now, France is dead for good and so is Sweden. This means that the Italian threat is done, and there has to be a new threat: Turkey.
I have tried my best to convince everyone about this, but USSR, my most important ally, ignored me and even allied with him against me and my new ally, Spain.
Yes, I drew that.
Fun Fact: My IRL brother watches on my games, and when he saw USSR stab me, it was he who suggested me taking revenge. Me, being the pacifist I am, ignored his suggestion. And glad I did.
Map by Fall 1944: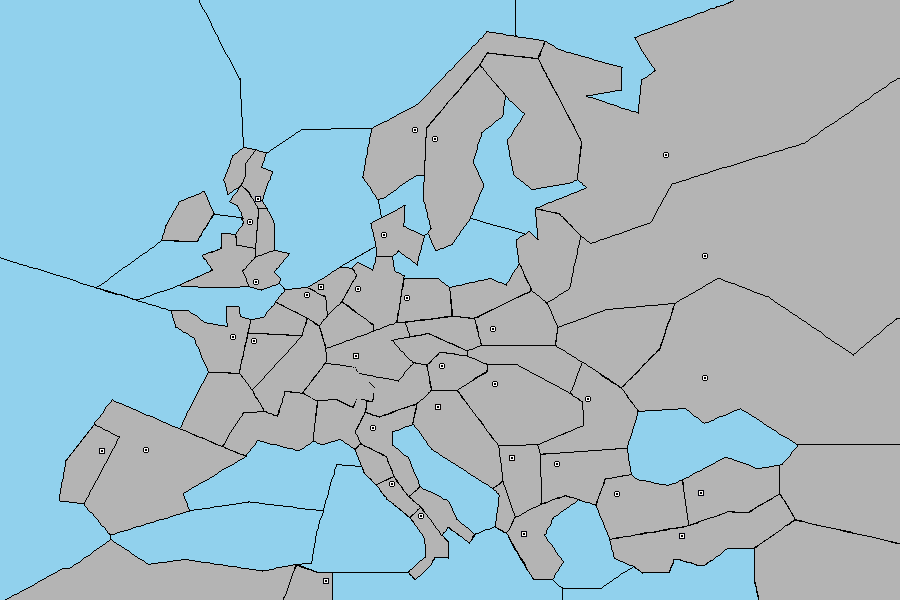 Turkey took 4 SCs this turn, which is scary after the USSR X Britain feud. I was able though to convince him and turn him back to my side, as this happened. It was then formalized that there will be a stop-the-leader alliance between Turkey and Greece versus Me, USSR, Germany and Spain.
The Final Push against Turkey/Greece (1945-1947):
Not much SC changes happened this part, but USSR gave me back Stockholm so that I can send more fleets into the Med to hold the stalemate line. Germany took Holland so he can get more armies for the line, and basically everyone coordinated with each other against Turkey/Greece.
At some point, Turkey tried to convince USSR one more time to turn against me, by saying that my minor is Spain, so I unleashed my mafia-side (I played mafia before and I know how to unleash loads of evidence) and sent this:
Turkey wasn't convinced, but USSR was. This was good, and we kept holding the line until the Fall of 1947. After 17 in-game years, 80 (around that number) game phases, and 3 months of playing, we finally got Turkey to accept a draw between USSR, Britain, Germany, Turkey, Spain and Greece. It was a well-deserved draw for all, who have put all their effort into making this game the most fun one that I have ever played.
Final Map: (Fall 1947, Build)
End of game thoughts:
I really learned a lot of stuff in this game. Communication is very vital, and reforging alliances can prove useful in the very end. This was stressful at the start trying to get home, but I actually got home quicker than I thought, and I started to dominate my surroundings. I have been matched in this SHIFT game with the best player set I have ever had, and I want to thank them for their effort in this game. Thank you all
For the players:
France/Czechoslovakia (Woolgie)- Even though we had the least amount of interaction in the entire game, I am still glad to say that you played so well! Too bad Italy decimated you in 1943… I love how you wanted to save Paris, and I felt bad for how fast you were eliminated by Spain. It's nice meeting you again Woolgie, especially since our last game together was Heptarchy 16! (In which I stabbed you, sorry) I also really like your one great insight on the SC counts.
Germany/Yugoslavia (Asudevil)- It was nice communicating with you, and you definitely deserved that draw! I am sorry for killing Yugoslavia without warning, but things went well for the 2 of us right? Even though your messages aren't the longest, they still made sense! The 2 of us maintained some good terms, which helped both of us getting into the end! Thanks by the way for the help on Scandinavia! Also, since our last game together was War In The Americas 8, it's nice seeing you back as well!
Italy/Sweden (eldubby)- I feel really bad for you Italy, as many of us, including me. It turns out, Turkey was the solo threat. But I like your message style! You really take this game seriously, and you almost won, just like Turkey! Also, that Game Of Thrones reference was nice, as I am a fan of Game Of Thrones! Though you threw the game to Turkey, which wasn't good, considering that you could have turned the tide in our favor instead, but okay. Nice meeting you!
Poland/Spain (Arsoudre)- another new player! Though Poland died quick, Spain lasted till the end, and we got close quick! Your message style was cool, and we got along! Thanks for letting me past the Med! I really don't have much to say about you but thanks for making the game easier for me! Hope to see you in future games!
Turkey/Greece (WarSmith)- I remember you from my "Oldest/Youngest players" thread, and I immediately liked you as a player! I can clearly see the effort that you put in the game, and how close you were to soloing. You are clearly a master diplomacist, and I really had to put the effort to keep up with your play. Nice meeting you again, and I hope we play more games together!
USSR/Egypt (StarkAdder)- And we meet again. This is our 4th game together, and from those 4 games, especially DoIaF II, I learned that you are a very outspoken player. I remember the times back in DoIaF II remembering how good you are, it just happened that Groo and me took you down. But anyways! About this game. You really did well with your play, and being the first AND last country I talked to in the game, I was really impressed by your perseverance. It took you very long to get home, and you had to be beat up by countries like Italy, Sweden and Turkey. If I could relate you to a Game Of Thrones character, it would easily be Sansa Stark. You made it in the end, and you deserve the draw. You have influenced my play and everyone's play in general because of your Press actions. And even though you stabbed me, we got along again. Thank you for making this game fun.
In short, every player was awesome and I would like to play with you guys again. Thank you to all for this wonderful experience!
And thanks to super_dipsy for letting me in the experience!
BTW:
Link to the full game:
https://www.playdiplomacy.com/game_play ... _id=155985