This was a pretty good time of a game with a lot of back and forth action. I'll be writing up the AAR for a while (likely in stages) and am eager to get everyone's pitch in.
Josey Wales set up the game and I got a blast invite from Big Gun -- congrats on putting together a great group. This was an unusually enjoyable game (and only partially because it went well for me).
Great Britain & Spain -- Big Gun
France & Yugoslavia -- Charleroi (SOLO WIN)
Italy & Sweden -- The Tibetan Blackbird
Germany & Egypt -- KEVINkevKEVIN (replacement for Machor in Spring 1943)
Poland & Greece -- MarcusFurius
Turkey & Czechoslovakia -- Josey Wales
USSR & Rumania -- The SHIV
Final Board: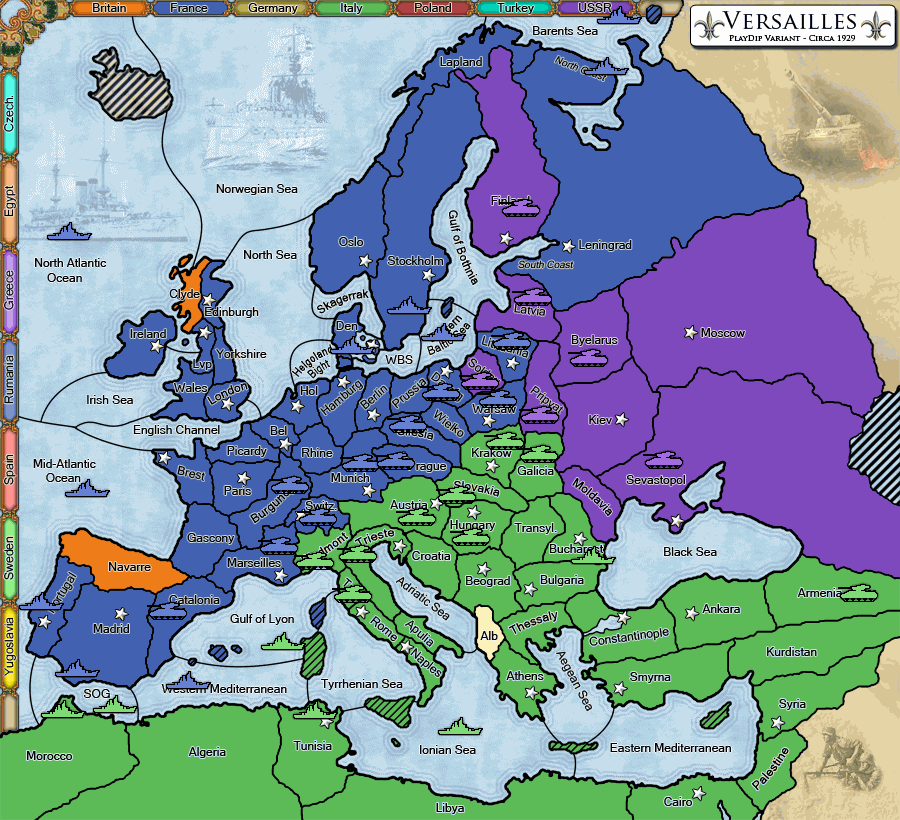 From my perspective, the game divided into roughly three phases. Phase I was the Napoleonic Alliance of France, Germany, and Italy, or perhaps the Vichy Triple if we're going with the WWII analogy? Phase II started when that central broke and first Germany and then Italy made surges toward a solo victory. Phase III began when Germany was materially reduced and the map coalesced into a Stop Italy Alliance which I used as a screen while positioning myself for the final sprint.