It's very unusual that I'd consider a 5-way draw worthy of an AAR, but this classicist game was a roller coaster ride of a game and deserves a write up.

beadsman (5way DRAW)

kimpossible (5way DRAW)

Malachite (5way DRAW)

UFO Fever

IvarGizteb

joe92 (5way DRAW)

Iggy (5way DRAW)
For myself as Turkey this game really was something else. At one point I was down to 2 centres, and it was not until the spring of 1910 that I managed to have more than 4 units on the board. I was for most of the game in a state of frustrating mediocrity.
Final Board - Spring 1911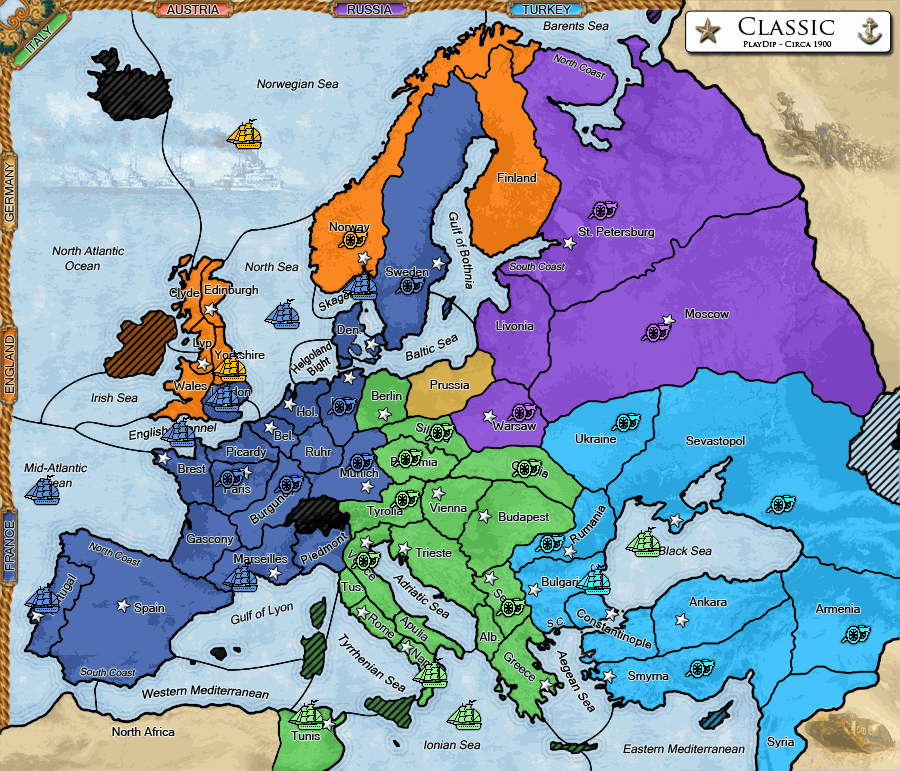 This was the final position. After lots of successful plans, failed plans, stabs and turmoil, I finished with 6 centres and an Italian fleet in the Black Sea. The end result was unexpected. France had declared her intention to attempt a solo run and England and Russia were threatening to kingmake her. In a test of brinkmanship they put out a draw request for the 5 remaining powers. I had no intention of accepting that draw request. But, no negotiation would happen with Russia until I had at least shown my willingness by accepting that draw. Why not, I thought. France will of course let it time out... I sent France a message explaining how her idea at a solo run was ill thought out, and that she could step back into her position in the FIT alliance should she move her units away. I think I laid on the threat of elimination and anit-solo alliance too heavy, for after reading my message France accepted the draw! Drat, now I was someone who had finished a game in a 5-way draw. It was an underwhelming finish, but the rest of the game was brilliant. For that, let's rewind...
1901 - The First Year
Like the rest of this game, the opening year had a bit of quirkiness to it. Before the game started I declared that I would need a pause request to attend a wedding. It so happened that by the time the game filled up on Aug 21st that the request was a mere week away. As a group we decided to pause the opening spring right to the end of that pause, meaning that spring 1901 lasted right up until Aug 30th. Nine long days of deliberations.
My early comms were mainly with Russia, Austria and Italy. With France and England we established information sharing agreements and promises to help each other in the far future, should we make it that far. The usual stuff. I didn't hear from Germany. In fact, I had to send him a follow up message asking for a response. I didn't generate a great impression of him. It got worse by the fall.
Russia and I opened on good terms. We spoke of the mighty juggernaut, how we could start one without others knowing and how Austria was trying to pit us against each other.
Italy and I opened on fairly good terms. We had a bit of back and forth regarding Greece, but aside from that it seemed like things would be great between us.
For Austria I was a little more sceptical. He suggested I could move to Armenia in the spring as his very first message to me which immediately raised my suspicions. It was pretty evident he was trying to play me against Russia, and after confirming that with Russia, I set out to eliminate him.
The initial plan therefore was to strike at Austria with Russia as an ally and hopefully Italy too - though if Russia was my ally it wouldn't really matter. But then Russia disappeared. I checked in after the wedding and still nothing. In fact, after a great first 2 days of comms I didn't hear from Russia between Aug 22 and Sep 03, the last day of the fall. In an established alliance I wouldn't care. This wasn't an established alliance and I was worried. Iggy had told us all he would be on holiday between the 5th and 10th of September but this was before then. There will have undoubtedly been a reason for this silence but it was not explained. Combined with that silence Russia opened in a fairly Austria-friendly way and that just about sealed my determination at that point to attack him.
The spring:
Although Russia moved in such an Austria-friendly way I was not going to let the prospect of a juggernaut die so soon. I spoke with Russia. I told him he had moved in an Austria-friendly way and what could he do to reassure me he was actually committed to a juggernaut. In his response he asked if he could move to the Black Sea so he could build an army in Sevastopol but assured me he would use that army to support the fleet into Rumania. As said, that came through on Sep 03 with the deadline set to adjudicate less than 12 hours away. That was a lot of trust I was being asked to make from a person who hadn't spoken to me in 12 days. I didn't have it in me.
The initial plan went out the window and I started thinking of alternatives.
In the fall I started talking with Austria and Italy in earnest. I still had my reservations about Austria for playing both sides and Italy was still pushing for Greece but in the end an opportunity appeared. Austria committed with me to attacking Russia and offered to support Bulgaria to Rumania to bounce out Russia. I messaged Italy and suggested that I could support him into Greece because of this, but that it was a risky play and to think about it. He said no. I don't blame him. He risked getting no builds if it went wrong. So I went ahead with the move to Rumania.
Elsewhere on the board it was fairly evident an E/F alliance was starting. Nobody was speaking well of Germany. Germany's spring negotiations had seen just about everyone call him greedy and to be concerned about where he was moving to. It became apparent to myself and the rest of the eastern powers that an E/F was forming, and this became a huge negotiating point for us, in the spring and in the fall. "You need to do xyz, so we can ally and you'll be able to defend yourself from E/F." Even after France moved to the English Channel it was still fairly obvious.
In fact, a side note on this: in an act of frustration towards Germany's refusal to answer me, in my follow up message to him in the spring I raised the point that he was facing an E/F alliance and could do well to change people's opinions of him and find an ally. I wasn't too concerned about Germany's welfare as he wasn't talking to me, but I didn't want E/F to storm over him too quickly. A day or so later France sent me an angry message asking why Germany was saying that everyone, including Turkey, was talking about an E/F alliance. Germany had outright named me as a source of information. He completely obliterated my relationship with France - something which took a long time to repair. After that I couldn't have cared less what happened to Germany. He would be the first to be eliminated.
The board after the first winter:
1902 - The First Betrayal
I committed in my build to destroying Russia. France committed to being allied with England. I didn't know it yet, but also to Italy.
The spring was fairly uneventful:
The fall was when the clever betrayal happened. I had committed completely to taking down Russia. In my mind he would be the second to be eliminated after Germany. I tried hard to convince England to take St. Petersburg but he refused (thankfully). Austria after taking 2 builds in the opening year now seemed to be talking in terms with me of starting a proper alliance. He suggested that I should take Rumania and Sevastopol. Then, the clever bugger, he suggested something even better. That I should convoy my army into Sevastopol so that in the spring I can move both of them northwards.
It blinded me. I was focused at this point on getting 2 builds. Only problem, I preferred Italy. Italy spoke more of the long term and came across as better ally material. It also helped that he was weaker and a bit further away. So I consulted with him about what to do, explaining that I could get two centres but asking if he was OK with it... and completely forgetting to address an issue he raised about not building any more fleets. His response was positive. He said I should go for it as taking Greece wasn't a definite, and once again raised the point about not building anymore fleets. I once again didn't respond on that fleet issue. I think in all honesty there was a tiny part of me, like 20%, that was considering allying with Austria and I didn't want to commit to a false promise, no matter how slim. In hindsight, it makes the stab seem so obvious, but at the time I didn't see it coming and in my mind I was 80% allied with Italy so I was surprised and miffed when it happened.
The fall:
The stab came down hard. I had been masterfully played. Blinded by the idea of gaining 2 builds I moved as suggested. I convoyed over to Sevastopol and moved to Rumania. But instead Austria took Bulgaria from me and Italy moved into a late Lepanto. The only saving grace in this was that Austria had stabbed Russia at the same time, again. Russia was to take Rumania while losing Sevatopol so he could rebuild an army in Moscow and take Sevastopol right back off me. In a foolish attempt to kill two birds with one stone, Austria bounced Russia out of Rumania thus leaving him net neutral for another year (well he actually got a build as the fleet was destroyed, but you know). And leaving me with a path to reconciliation...
1903 - Reconciling with Russia
If there's any skill I've developed from this game, it's forgetting the past and trying to adapt to whatever the situation currently looks like. I immediately sent Russia a message of apology and offered to immediately move out of Sevastopol. I had no intention of keeping it and facing 3 enemies. The only other problem to face was where would Italy try convoy to? If I could get that right I would be able to stall long enough that the attack against me would end up hurting him more than it would gain him. I had disbanded my Bulgarian army and rebuild it in Smyrna. It became a 50/50 chance. I held in Smyrna thinking he would try bluff his way there unsupported. I guessed right!
Spring:
After demonstrating to Russia my honesty in this, we soon became firm allies. In fact, even by this fall we started planning new ideas. For this phase, we had 4 units surrounding Rumania. It could be possibly to support Russia in there while I get to hold Sevastopol for another year to offset the loss. If it failed he'd just bounce back to Sevastopol and get a build anyway. He agreed that was a good idea and we tried it. But we weren't so lucky. I guessed wrong in the convoy in the south with Italy moving into Syria while mine and Russia's attempt to take Rumania failed, and Germany slipped into Warsaw to stick around as a pest.
The board by winter:
1904 - A Double Whammy of Hope
France and I were on terrible terms since Germany had named me as a source of information. She wouldn't share anything with me that was useful and only seemed to ask for information on the east. I was extremely frustrated with our situation and in the end sent her a message explaining that. Between the fall of 03 and the spring of 04 we were able to put our differences aside and start anew. France told me I was coming across as hostile, and I explained why I was like that. We put the issue to rest and from that point on we remained on positive terms for the rest of the game.
Crucially though she told me immediately after repairing our relationship that Austria had requested help in a stab against Italy. This was 3 out of 3 allies who Austria was prepared to stab. I was very excited. There was hope for me yet. Italy might be in Syria but his entire homeland is undefended and Germany's last rogue army is sitting right over Venice. France asked my thoughts on this and I obviously encouraged it. Even if Austria was able to get a build out of it, if he lost Italy as an ally I would be able to survive. Instead of going through with attacking Italy, France told him about what was coming. His tone changed completely. He offered to retreat out of Syria in an attempt to cover his homeland, and actually did it. I was going to survive!
Spring:
But the fall, why, that was even better. Austria had attempted to support himself into Constantinople in the spring rather than supporting Italy to Smyrna. He had also moved to Venice but that could have ostensibly been to protect it from Germany. It was the Constantinople move which I think saw Italy come back to my side. If Italy had moved against me he would have been left looking a bit foolish when Austria didn't help him. So we concocted a plan to destroy Austria's fleet and possibly see Italy take Greece off of him as well; support my fleet to the Aegean while moving Italy's other two fleets to Gre/ION. Austria's fleet would be disbanded and he'd be left with 5 armies on the board. No matter what happened after that, I was very happy knowing that there would only be 1 naval power to oppose me in the Med.
What made this fall so great though was what happened in the west. I had barely been paying attention to that side of the board, just focused on my own survival. But in a surprising twist to the game, the most solid alliance on the board just disintegrated.
1905 - Sweep
I reached out to Austria at this point again. The board just couldn't pick a direction to go in and I really wanted him to become an ally so I could get the upper hand against Italy. I had Russia as a very solid ally to my north and while Italy and I had worked together in the previous year, things were still very taut between us. Austria offered to support me into Greece, which was a certain no as far as I was concerned. Not until he gave back Bulgaria and proved that he wasn't just going to screw me again. I said as much to him, and to my surprise he agreed and we set out a plan whereby in the fall I would have an army back in Bulgaria.
Spring:
Well damn, after moving all his units against France, England immediately withdrew them all. What a bummer. The E/F alliance was still on. After seeing the retreat and it crush our collective hopes that the E/F was finished, Russia started a 4-way thread between the rest of us: AIRT. The plan was to stop the E/F alliance before they grew too strong. We were all committed in this. I raised a concern about being trapped at 4 centres and asked for an agreement that in the future once we had made gains against England and France that the others cede centres back to me to retain parity. Italy immediately took this as an offence and started a 3-way thread excluding me. That got quashed by Russia responding in the 4-way thread and Austria responding with an immediate yes, no problem, that's only fair. There was tension between Italy and I, but it seemed like we were all on board with stopping E/F from dominating the board.
Then I received a message from England. In this message he admitted that France had talked him around, but then said something that took me completely by surprise. He wasn't in an E/F alliance. He was in an E/F/I alliance, a "Sweep". And that this had been the case since turn 1. Well I was stunned, I was angry. Italy had occasionally offered theories for something relating to England or France in comms. It suddenly made everything he'd said take on a hugely new dark angle. He'd been playing a long con. A very long Machiavellian play against us all. No wonder he was objecting to my fair request of parity I told myself! I waited though. England had no reason to lie, but I had no idea how to use this information yet. I just spoke with Austria and ensured that he covered Albania so Italy couldn't walk through now that France was also in Tyrolia.
The fall went smoothly. I got Bulgaria as promised and the rest of the board seemed to stagnate:
The other half to come soon....