This is an AAR for game 146580, Fight for your Right, which I was fortunate enough to solo as France. The game contained many beautiful positions; now it has finished (it was anonymous) I see that two of the other players are in the top 10 in the PlayDip rankings, so the quality was pretty high, even with me in it.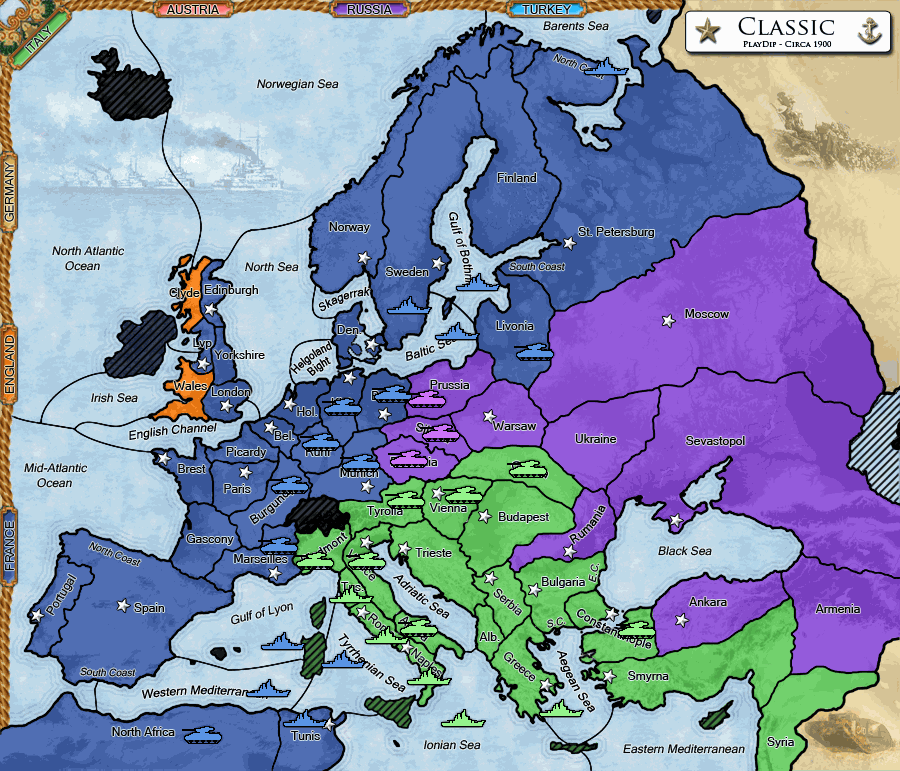 I will, therefore, write a series of posts going through the game. I hope people will find it of interest and comment.
How do you start as France? The key provinces are Burgundy and Mid-Atlantic. The first is crucial in the sense that Germany must not get it in Spring 1901; France must ALWAYS move there. This Germany wrote offering a DMZ in order to keep the English army out of the continent. I politely told him I was moving there and after a bit of to-and-fro, we agreed a bounce.
This is obviously good news for England: he must take Belgium unless Germany moves the fleet to Holland. If he moves the fleets North he will get Norway too. It was not hard to persuade England that this was his best course of action. In exchange, I extracted a promise that he would not build a fleet in Liverpool. Italy seemed happy enough to agree to keep Piedmont empty.
So far, so good!
Mid Atlantic is perhaps the most important province in the game. A fleet there is enormously powerful: it can switch North or South or just hold to keep France secure. The problem is that you put the fleet there in Spring and then bury it in Spain or Portugal (ugh!) in the Fall. Surely there must be a better way to get two builds?
If I am bouncing in Burgundy, then why not do it from Marseilles? This frees the army in Paris to go to Gascony (yes, really). From there I can convoy into Portugal and take Spain from Marseilles, keeping the fleet in Mid-Atlantic. If England or Italy do try something nasty, I am still covered.