The players...
England - Dduck118 Winner!
France - ListenThinkListenAct
Italy - Windmill Crusader
Germany - Tim Von Bismark (I know! Name funny)
Austria - Bloggix
Turkey - NicPeer (surrendered
) replaced by Super Sub
Florida Man
Russia - Ipphli
This was my first mentor game, it was a doosey. It went all the way to a solo win in 1923!!!
Here's the final map in fall 1923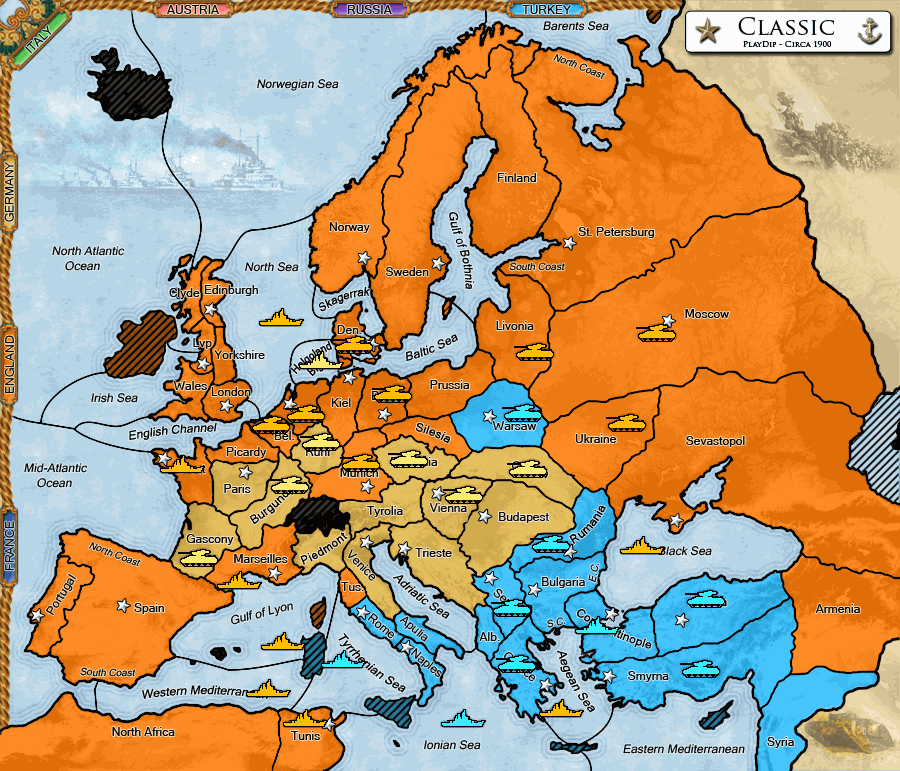 This was a great game. A lot of players were true newbies, learning the mechanics of movement, tactics and strategies. It was a pleasure to observe and teach. From early on I encouraged not to play for safety as this was a learning experience, and to go on to the end.
I will leave it to the players to share their experiences, some strange and strong alliances formed, ultimately, the winner - England, was close to the most inexperienced player, but asked lots of questions and applied himself hard. He learnt fast!
My few observations. Windmill Chaser as Italy was an interesting highlight. His enthusiasm was overwhelming! Long, detailed, even aggressive communications with expansive and somewhat grandiose strategies. He drew a LOT of attention to himself. I've not seen someone paint such a large target on their own head so quickly before. I hope he's not scarred by the experience and returns to play, he has a lot to offer.
I thought France played an excellent game. In ordinary circumstances, meaning a game where experienced players were at it for ranking, I believe he would have gone very far, maybe even won. But he was not to know that the E/G/A alliance was inexplicably strong and that Germany would stick fast to rescue England from what would have been a terminal stab had Germany changed sides. This, I believe ultimately lost Germany the chance at a win. Stretched from Spain to Russia, a thin strip of beef in the sandwich, he was only going to be the enabler of another powers win. And so it turned out.
Special thanks to Florida Man for stepping into the breach and taking over Turkey.
Thanks to all who played, hope to see you back in the trenches soon