The Early Game
I am not entirely sure why, but after successfully sending armies into Bulgaria and Greece in Fall 1901, my Turkish predecessor failed to enter build orders, and subsequently surrendered in 1902, leaving me with this situation to take over when I joined the game in Fall 1902:
Maybe because the surrender provided the illusion of no Turkish threat, or maybe because there were more fertile grounds to be had in Austria, both Russia and Italy left Turkey alone through 1902 and carved up Austria. When I joined in the Fall of 1902, I immediately commissioned an additional army and an additional fleet.
I set about negotiating with Russia, and given his situation with Germany and England, he was more than willing to find a friendly partner in the South. We coordinated a western push, and by 1903 I found myself quite secure:
Italy was my next intended conquest, however, France was lobbying for some form of agreement whereby Italy would remain the boundary between our two powers once the Italian player had been eliminated. I established a claim for Trieste, and the rest of the centers were up for negotiations. Italy, on the other hand, was courting my support against the Russian advance, and I made some empty overtures about propping up Trieste against the Russians. Knowing that Russia wasn't actually going for Trieste, I just cycled my armies instead and used Ionian Sea to land an army in Apulia in Spring 1904:
In Fall 1904, I did not want to draw too much attention to myself by taking both Trieste and Naples, so I took Trieste, but rather than use the predominance of force to take Naples, I used Ionian Sea to support France into Tunis. I figured France would get Tunis anyway at some point and I could lay the foundation of trust by overtly providing him with support. We agreed to no units in Tyrrhenian Sea. But, I knew I had the leverage to get the better claims on Italian centers. So Fall 1904:
Here's where it all started to get really interesting. The Russia/Turkey Juggernaut was obviously in play, and Russia was racing westward without any apparent fear of a Turkish stab. France and England were establishing a rapport in the West. It seemed inevitable: this would be a traditional east vs west split that was likely to clash at the stalemate lines. I began to discuss with France the idea of stabbing Russia and working a 3-way with England and France. Meanwhile, in 1905 I stayed true to the Tyrrhenian DMZ and continued to press into Italy taking Venice in the Spring and Naples in the Fall:
*You'll note I also took Rumania. This was actually a negotiated transfer of ownership to maintain the balance of centers between Russia and myself. But I was also laying the foundation for an impending stab.
After the 1905 builds, this is where we found ourselves:
*I had two options, clash with France over the stalemate line, and probably lose his trust forever making it extremely difficult to ever lure him into a vulnerable position in the future, or go in for a merciless stab against Russia and deal with how to handle France at a later time. I chose the latter.
The Stab
Spring 1906, I push north with Trieste, convoy Smyrna all the way to Trieste, take the Black Sea, and march Ankara over to Armenia. Before the finalization of orders, I had asked Russia if he wanted to move Warsaw over to Ukraine to protect his isolated Sevastopol fleet long enough for me to move my new builds out, but he said I'd had an opportunity to stab him previously and hadn't taken it so he trusted me. I knew my moment was now.
I was now in position to take both Vienna and Budapest, while also keeping Rumania in place so as to prevent Sevastopol from retreating there. 3 Russian centers transfer to my hands:
By the end of the year, I'd taken 3 Russian centers, destroying one fleet in the process, while Russia took Norway and Holland, and sacked Berlin to eliminate Germany. This actually provided him with one build still, despite my aggressive stab. Unsurprisingly, he built an army in Moscow to slow my advance.
From this point forward, France very much believes in our agreement, sending a fleet north all the way around England to help stifle Russian advances, and France, England, and myself are committed to killing Russians. France doesn't seem too concerned with Turkish perfidy, I assume confident that a 3-way is a good enough result for me compared to the 4-way draw we were looking at prior to my stab of Russia. But, I'm not satisfied with that.
I get no builds in 1907, instead slogging through a ground war with Russia over access to Ukraine and Galicia. By Spring of 1908, I make some headway, finally grabbing Moscow, while England has already retaken Norway, and France actually sails into St Petersburg:
The Stab 2.0
At this point, I'm concerned. If France gets a build and plops a fleet in Marseilles, I'm not loving my chances of taking Tunis, plus, England can easily help defend St Petersburg. I need these centers if I'm unable to break through the center of Germany. Therefore, Fall of 1908 I hit Tyrolia to prevent France from claiming Munich, and I also sack Rome and violate the Tyrrhenian DMZ positioning to take Tunis in 1909:
In Spring 1909, the Russian fleet in the Channel gets all the attention, giving me the opening to take Tunis with an army, convoying over one of my new builds, and I still own Tyrrhenian. I also take Warsaw, unopposed as Russian decommissions his eastern units, and I'm now at 17 centers. I need either Munich, Berlin, or St Petersburg:
The ultimately decisive move comes in Fall 1909. I have two options: commit all my forces toward overwhelming the Munch / Berlin areas and hope that Russia and France don't finally reach some common ground and work together with England to stop me, or push North into Livonia and hope that England does not move back to Norway to defend St Petersburg. I went for the quick strike in Livonia, knowing that if England moved to Norway I had wasted a precious move and given more time to England/France/Russia to find a common goal. Ultimately, England missed the chance to stop me:
1910, thus was the conclusive year, as I took St Petersburg and Munich reaching a total of 19 centers for the solo: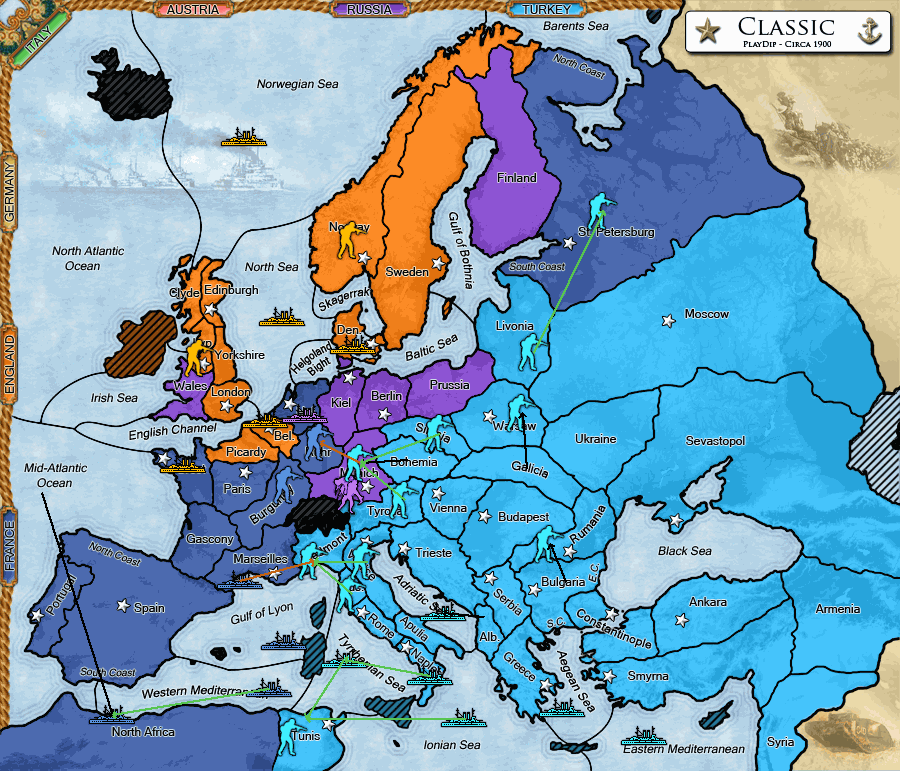 Conclusion
While I'm very satisfied with the result, and believe strongly in both the strategy and timing of my devestating stab on Russia, and my betrayal of France, I'll readily admit that I was the recipient of some good fortune here as well.
Russia, ultimately, played King Maker. At a certain point, he stopped trying to slow my advance and for some reason committed all his efforts to stifling France's advance through Germany. I don't really know why that is, as he stopped replying to me after I stabbed him. He was initially very upset with me, so I'm surprised he didn't try to work with France and England to force me into a stalemate.
Additionally, France and England's efforts were a little uncoordinated. England at the very least could have prevented me from taking St Petersburg and probably defended Berlin as well. France failed to reach an agreement with Russia over the mutual defense of Munich. These were the big blunders that allowed me to take those final steps needed to solo.
In any event, it was a fun game, and France especially was a damned good sport when I ultimately betrayed him. I've been off the site for quite awhile, so it was nice to get a solo under my belt as I dip my toes back in.