Eng Suvin123
Fra Chrisbills11
Ita Ipanema
Ger Drewrich1997
Aus Grattan
Tur Arp
Rus El Swine
As Russia, I found this game highly enjoyable. Many twists and turns, periods of high risk and high reward and a point where a win could have been taken but wasn't in the spirit of a great alliance. Whether others agree that was the right thing to do or not, well in the end it doesn't matter. The game ended with a final fancy move of A)Con convoyed all the way to Liverpool and supported in by Russian troops in Clyde and Wales.
Final move when the 2 player draw was agreed to, Fall 1912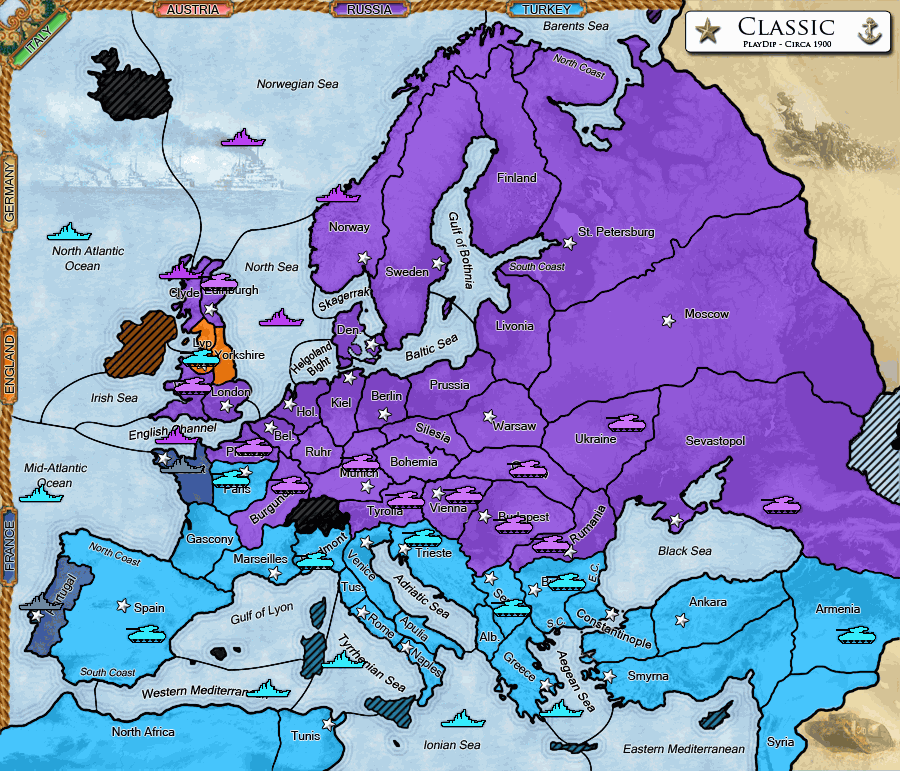 In the beginning you would never have thought an R/T Juggernaught would materialise with Turkey opening strongly anti-Russian. France and Germany looked like starting a strong alliance, although Germany's variant opening of Mun-Tyr was strange and never really materialised into anything. Austria and Italy were not friends after a bounce in Trieste. England appeared to be alone.
Austria probably saved my bacon in F01, supporting the Sev fleet into Rum. Russia without a build in 01 is extremely weak and can disappear quickly. There were some strange developments by the end of 01, but no one was truly facing an early exit at this stage.
Things then turned and the game took on a new complexion. Turkey abandoned the Russian attack and Germany built in an anti-Russian fashion. The R/T formed and was to become the dominant force for the entire game. Strangely, Italy began to support the Turkish attack on Italy, hasting the Austrian's exit and ultimately his own. France's attack on England vacillated, England joined Russia in attacking Germany - a fight that twisted, turned ebbed backwards and forwards for a very long time. It was well fought on both sides with smart diplomacy and ruthless clever tactics. Ultimately Germany lost out, but lost no friends in the way he fought.
By the end of 03, Italy and Austria were enmeshed owning one of each others centres, France surrounded England, half of Germany was occupied by Russia.
France and Germany stuck together in an effort to halt the growing Juggernaught, but England played effective interference by linking up with Russia in a teaming that would ultimately see England completely repatriated and Russia assisted at a critical juncture in the game. If England had not of sided with Russia at this point (05-09) things would have turned out very differently.
Austria hung on in Naples until the end of 06, but the fact that he had a lone unit in Naples and Turkey was the eliminator, and held Tunis tells the story of the Mediterranean battle.
It was at this point that the stab was open to Turkey. The West Med was breached and Russia was fully engaged in the north. Turkey's 18 could have come from the southern centres, the 3 Russian centres (not StP) and Mar/Spa. But the stab did not come. Turkey stuck with the alliance. Even passed on a build one year to show good faith. It was then that I decided that if it came to it at the end, I would repay the loyalty shown and finish in a 2 way draw with Turkey.
By 07 Turkey had breached the Atlantic and the weight of numbers began to tell. Still Germany did not go down. The fight around the German centres and Scandinavia raged. Ownership of centres changed hands and a hard grind ensued. Germany actually did not disappear until the second last year, and by that stage the sheer weight of numbers was heavily in Russia's favour. A win could not be stopped by any sequence of moves.
So it came time to fulfil my earlier promise and draw with Turkey. Forces were lined up in held territory and a last convoy was ordered from Constantinople to Liverpool supported in by Russian forces. England, who had flipped sides 4 times throughout the game, eliminated in the last move. The 2 way draw agreed to by Russia, Turkey and France.
Some will say the win must always be taken when it presents itself. But I've been there a number of times, most rewardingly in face to face tournaments. I know I'll savour this result more than if I'd gone for the win