Players:
ENGLAND - Mitchell285t/senorziegler
FRANCE - Chiefmoore
ITALY - Marbakka
GERMANY - RedSun
AUSTRIA - mazechamp/Luchanenburg/ntmurphy
TURKEY - youngweezy (SOLO WIN)
RUSSIA - mattyboy
1901:
As soon as the game started, I got a message from Germany telling me he would help me against Russia and Austria if I needed it. I used that to my advantage when I asked Russia for an alliance. I told Russia that Germany was planning to attack him with help from me, Austria, and England, and that if we worked together we would stop them. He gladly accepted the alliance and we DMZ'd the Black Sea so I could get my fleet out to the Aegean Sea in time to stop the Lepanto that I was expecting from Italy. The bounce in Galicia and England moving to the Barents Sea instead of taking Norway helped corroborate my story to Russia. Unfortunately, Russia NMR'd in the fall of 1901 which gave Austria a very strong position. Here's how the map looked after the first year:
1902:
I reached out to France because I saw him move the fleet to Spain(SC). He was happy to move against Italy. Things looked pretty bad for me in the spring of 1902, but at least I got Greece. Also, Russia started a trend of NMRing every so often which was annoying.
In the fall of 1902, I asked Italy if he would support Greece to hold. I pointed out that Austria was outpacing him in growth and that it was probably Austria who asked France to move against him to keep him weak. He said he would support me, but that was a lie he would soon regret.
At this point, I was just hoping Austria wouldn't retreat. If he did, he could take Constantinople and Sevastopol and possibly be on his way to winning the game. But I got lucky and he didn't retreat. He ended up auto-surrendering, and that was the end of Austria.
1903:
France and I make an alliance to move against Italy. As France gains the upper hand, Italy messaged me and told me he knew I would be getting my revenge on him. All he asked was that I let him give some "death blows" to France. I agreed since I did not want France to control the Mediterranean. Russia and I continued taking the former Austrian centers.
1904:
Germany and I began a campaign against Russia. It was sooner than what I would've preferred, but I decided to turn on Russia due to his lack of communication and constant NMRs. Here's how things looked at the end of 1904:
1905:
Senorziegler joins as England and proposes an alliance between us. I agree to it, but had to work unnecessarily hard to extract any information out of him. He told me Germany was planning a triple alliance against me and Russia, so we decided to stop him. England stabs Germany since he was wide open, and he tells me Germany is crowing about how he will destroy England. Little does Germany know, I'm in on England's plan.
Germany was supposed to get my support into Vienna and Rumania. Instead, he lost a unit and England doubled in size.
1906:
I got the feeling that England thought he could just walk into the game and control the board. I wanted to surprise everyone and bring back the juggernaut. I explained to Russia that the rest of the board was allied against us and asked to re-establish our alliance. He agreed. However, he did not respond to my message about moves we should make, so that's when I decided to go at it alone. No surprise that Russia NMR'd again. The end of 1906 looked like this:
1907:
England told me that he and Germany would work together to ensure I do not solo, but that I shouldn't worry because they would include me in a 3 way draw. From that point on, I no longer communicated with anyone. There was England trying to control the game again. I wasn't going to let it happen. Russia and Italy ended up surrendering this year.
1908:
England told me that I have no choice but to accept a 4 way draw. I told him to eliminate France and then maybe we could have a draw. But, he proposed a 2 way draw right after that. He asked for Moscow and Tunis, and I agreed but didn't follow through.
1909-1914:
The game stayed stalemated with England and I exchanging illegal orders to each other's centers. I rejected every draw proposal that they made because it was not in my best interest to accept them.
1915:
England NMR'd and I won!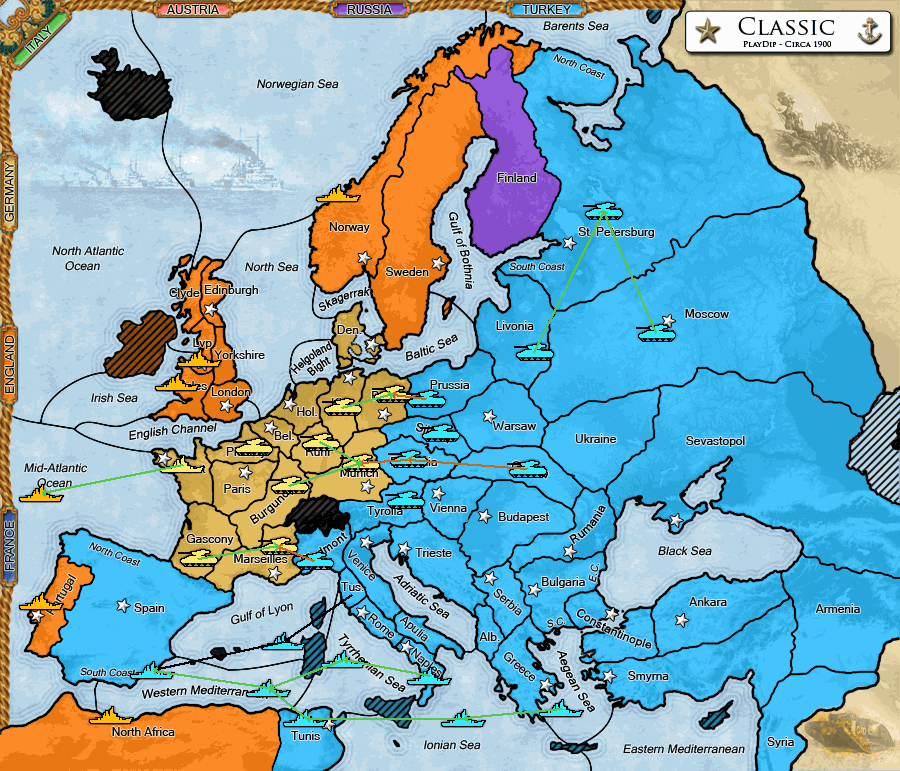 PLAYER COMMENTS/QUESTIONS:
I can't say anything about Mitchell285t or any of the Austrian players because I did not communicate with them, but I will say that mazechamp probably would've won had he not NMR'd.
senorziegler - You were probably the best diplomat in the game. You re-established England's presence and never had to deal with any serious attacks because all your neighbors were friendly with you and your only real enemy was on the other side of the board. I was glad to share information with you, though you probably forwarded most of that stuff to other players. I will say your Trump memes in the public press were rather annoying though. You were hell-bent on stalemating me, and I'm so happy you NMR'd at the end. I told you you'd quit before I did.
Chiefmoore - Thanks for attacking Italy! Too bad we lost communication later on. You even tried to support England into Tunis >:| Anyway, thanks for rooting for me at the end and I hope we meet again in future games.
Marbakka - I know you didn't trust me, but I will say that not trusting me was a mistake on your part. You were not willing to communicate with me, so I had to eliminate you.
RedSun - Who were you allied with in the west in the beginning? It looked like you were allied with France, then it looked like France started to work with England against you. Also, no non-aggression pact with Austria? Sorry about the stab, but England told me you were plotting against me and forwarded me messages about it. Not sure if they were real though. If so, how exactly did you think Italy would be able to attack me? You and England put up a good stalemate at the end, but unfortunately your ally seemed to have given up. He really did message me during the stalemate years and suggested we go for a 2 way and eliminate you. I'm looking forward to your AAR because you also had a pretty interesting game.
mattyboy - You were a great ally, but you NMR'd too much! I would try to coordinate some moves, and you wouldn't respond to me. I wasn't going to wait and wonder if you would stab me or not.
Anyway, that's my story. A big thank you to RedSun and Chiefmoore for not surrendering.