This game started around New Year's Day 2017 and finished on March 10.
Anonymous players until the end. Players were revealed to be:
ENGLAND Foibleson (4way DRAW)
FRANCE numberwang1 (4way DRAW)
ITALY appleseedy (4way DRAW)
GERMANY Eleusinian
AUSTRIA AngelEyesGBU (4way DRAW)
TURKEY Jordan767
RUSSIA surrendered
Spring 1901
I proposed to France (numberwang1) that I take Brest in 1901 in exchange for a long-term alliance with England. He agreed, and turned out to be one of the most reliable allies I've had in a long time (though not the most reliable possible.) But this may in part have come out of necessity, and there is one time when he apparently tried to stab me but Germany didn't go along with it.
It was a good thing too, because Russia opened up to block me from Norway and Germany claimed to have allied with him against me from the start. My main accomplishment this game was tearing apart this alliance and punishing it through elimination.
Germany simultaneously bounce Russia while Russia bounced me. This sort of goes against Germany's claims later that he was allied with Russia from the beginning. Fortunately I had a game-saving alliance with France and he let me into Brest as agreed. I would return the favor by helping him later, though I almost was convinced to eliminate him later on when Italy was causing trouble. But I get ahead of myself....
1902
France and I bounce in MAO to hide our alliance. France and Germany form a stalemate along their borders, in the meantime an amazing super-Lepanto is opening in the east with Austria and Italy, who took out Turkey like nobody's business.
Things aren't looking good for F/E alliance as Russia and Germany make gains. I had offered to support France into Holland and the game could have gone very differently if I had followed through - there was some miscommunication on both our parts, lack of confirmation, and I trusted Germany when I shouldn't have. France thought I was going to support him into Holland but was instead dislodged, and I thought I was going to get Norway. But then Russia and Germany found themselves in an awkward position and delayed their advance by trying to swap spots.
1903
Turkey was eliminated, not a small feat for such a country with a strong defense. This left Russia open for a stab by Austria, which is quickly what happened. Italy turned towards France. The Italian-Austrian alliance proved to be the most formidable on the board.
1904
Fall 1904 was a turning point for France/England because Italy helped France with Germany and Russia attacked Germany at the same time, Germany must not have been a very good diplomat that turn, or something else caused the momentum to go against his favor:
In 1905, Italy decided to slip into MAO where he was going to annoy F/E for some time. If I had known that it was appleseedy... who I have a grudge against from another game where as Italy he attacked me playing as Germany and proceeded to win a solo.
1905
Around the time Austria took Munich is when Russia began to see Austria as the real threat, and he made peace with me, persuaded that we needed to focus all our energy stopping Germany/Austria/Italy. But I stabbed Russia as was his due. Good thing I did, because I needed the builds to keep Italy out of Liverpool.
Appleseedy.
1906
1907
Russia makes a tactical error, attacking me out of anger when he should have been on the defensive. This opens up the path for me to St. Petersburg, where I locked Austria out for the rest of the game.
1908
Here I took Paris, which France was not happy about of course, but I kept building armies and later when I was disbanding, I disbanded fleets. In the end it helped me by allowing me to create more armies, and I didn't need that many fleets since I wasn't attacking France. France also took back both Brest and Paris before the end of the game, as I agreed.
1909
1910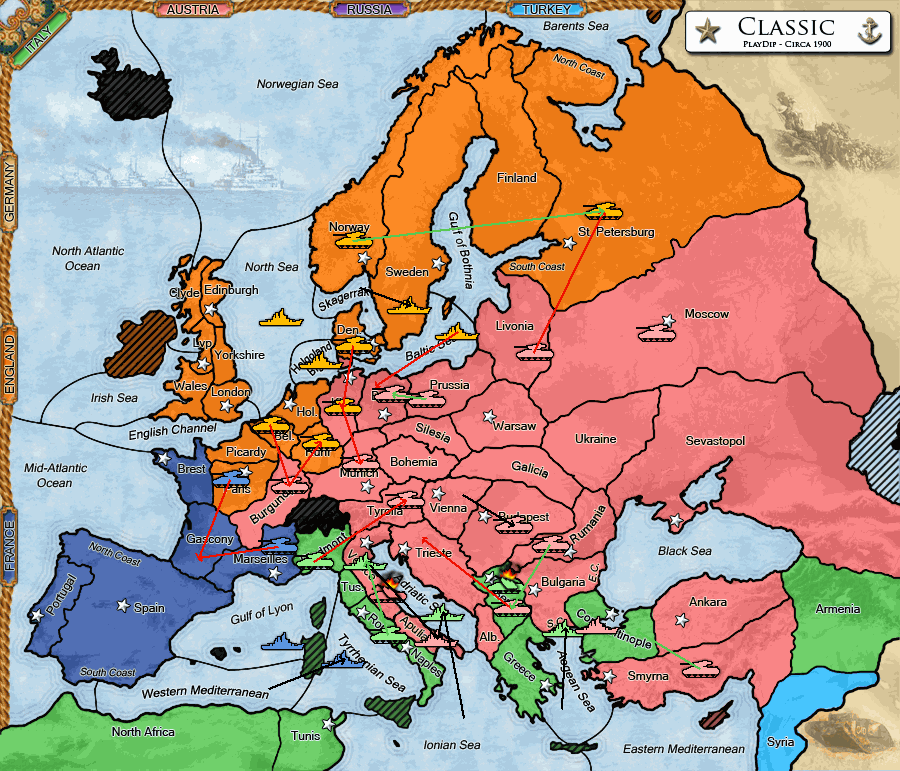 In the end I was glad to share a draw with France, who was a good ally. I wasn't happy to share a draw with Italy after I found out who he was, but that's the way it goes. And Austria - well played! But you tried to solo too early. You could have tried allying with me vs. the rest of the board, but I think you had given up or thought that wouldn't be possible. I might have listened to such an idea if you had proposed it...