Austria- drintoul (solo)
Italy- Mallku
Turkey- andrewcard
Russia- TiberiusG58
Germany- tsrules84
France- Zosimus
England- amatde
Before I begin, I'd like to note that this is merely one humble player's recollection of events (and use of notes and messages) to reconstruct a game that ended around New Year's. I actually tried to draw a few of the final turns out, knowing I wouldn't be in front of a computer until now, but it was not to be, so this AAR has come a bit late to be considered fresh.
Still, I hope my comrades and enemies from this game will leave me some comments, and perhaps some forceful feedback on this game summary. You never know...
Spring 1901 It Begins
When I start a game of Diplomacy, I begin by reaching out to every power great and small. That's probably a big part of how I became a Star Ambassador; once you open up those lines of communication, assuming you're an engaging conversationalist, they rarely ever close.
This game started off rather slow, as it began around Thanksgiving, and thus most people were a little unresponsive at first.
As Austria, I reach out with a particularly warm message of friendship and camaraderie to Italy, since it's my perspective that the best thing for Austria is to always have good relations with Italy and Germany, at least at the start. Happily, Italy responds quickly and with warm acceptance. I think this is the beginning of a beautiful friendship.
I take much longer to hear from Germany, and as the game goes on, he will occasionally NMR. Busy fellow, I must presume.
Italy and I quickly DMZ Tyrolia, and we ultimately agree to perform a Key Lepanto, at his suggestion. I basically put my life in Italy's hands here, permitting him to enter Trieste in season one. I think this provided for the foundation of a great mutual trust that would last almost the entire game. I establish cordial relations with Russia too, and we agree to a bounce in Galicia.
France and I communicate now and promise to talk often. After a message or two in 1901, I don't message him again until 1909...
England and I make pleasantries.
Germany takes a while to respond to my early message, but once he does, he agrees to the generally accepted DMZ of Tyrolia.
Russia and I agree to a bounce in Galicia, and establish he's not committed to the Juggernaut. Solid work, I think.
Turkey maintains a slightly worrying silence.
Fall 1901
I suppose that after I allow Italy to grab Trieste in the Spring, Turkey writes my chances of survival off. Either that or he's gunboating it, since I never hear from him. Ever. Even in response to my initial warm greetings! Oh well, less to think about.
I level with Russia and bring him into the Italian-Austrian alliance as a third member, promising to head West when Turkey has fallen. Sometimes I feel bad about engaging in this amount of deception. At no point do I consider I may actually turn West.
My communications with other powers dwindle. I keep in touch with Germany, and when he mentions that he and France may join against England, I make sure to tell England that. I'm happy to see France and Germany work together... so long as they don't make any progress.
Italy and I continue to execute the Key Lepanto; he chooses not to continue occupying Trieste, accepting my support into Serbia instead. I exhale audibly when I see this.
Russia also follows through on his anti-Turkish pledge. He'll build fleet Sevastopol, strengthening his position- against Turkey anyway.
I build army Budapest, while Italy builds fleet Venice.
Spring 1902
Russia suggests rapid moves on Germany by the two of us. Italy and I agree and amplify, noting how quickly France/Germany could grow together, as well as how dangerous a possible Anglo-German coalition could be. Never mind that these two problems are sort of contradictory. I suggest to Russia he should move Warsaw-Silesia, in case Munich moves East on him. Inexplicably he seems to buy this. If TiberiusG58 reads this, I'm actually quite curious about how our Russian expected things to go.
Russia takes Black Sea from Rumania and takes Norway due to an English NMR, but is surprised to learn that Italy has supported my Bulgaria unit into Rumania, and I'm in Galicia. He's been stabbed, and I got him to antagonize all of his neighbors!
Meanwhile, Italy and I have built a convoy chain by which to move on Turkey.
Fall 1902
Germany attacks Russia, and takes Sweden from him.
England is incapable of adopting his own anti-Russian measures, since France is attacking him.
Italy and I finish our bridge to Turkey, and I move into Ukraine.
Unfortunately, aware of our stab, Russia makes only intelligent and tactically sound choices from here on, causing me a bit of trouble. He retakes Rumania and backs away from Germany, ending up with exactly what he started with.
Spring 1903
Russia, Italy, and I negotiate to remedy the stab. In reality, Italy and I merely figure out how best to make the wound stick this time.
I retake Rumania, with Russian consent this time. I also take Galicia and support Italy into Bulgaria.
Italy also convoys into Turkey, while Russia moves Armenia. It would appear the Turk has given up.
Fall 1903
Russia and I plan together to move West. I think he really ought to be less worried about Germany and more worried that I have Galicia, but whatever. We pledge to move into Germany together.
Italy and I take Constantinople and Smyrna, while Russia grabs Ankara. He has officially outlived his usefulness, and I move into Ukraine once again. Poor Russia.
Spring 1904
I seize Sevastopol.
Western Triangle remains unsettled. Italy is sending fleets West. He's agreeing to gradually DMZ supply centers behind my lines. Yes!
While the rest of the board seems to take notice of us as a threat, they are unable to effectively respond. France comes the closest to behaving in a way that makes sense. With us in control of 14 centers together and coming up on 17 rapidly, it makes sense to take us very seriously at this point.
Mathematically, when an enemy alliance is approaching the number of centers required to win the game (if it were a solo), I believe the game is also approaching a point where it should become very difficult to stop that alliance unless you immediately secure the stalemate lines or attack the alliance in a concentrated way. You have to hope the alliance dissolves internally, or fold before its superior might, as each season makes turning its force back through superior strength or tactics exponentially more difficult.
Fall 1904
After Russia makes a critical (some might say fatal) decision ordering a retreat to an embattled location, I seize Warsaw.
Germany continues helping our cause; I stop messaging him from Spring 1904 until Fall 1910, though. While Italy and I had persuaded him that taking over France was in his best interests, and he did indeed enjoy some of the spoils we had suggested were available, Germany's plays here were ultimately pretty short-sighted. I can't say I haven't ever been guilty of greed that flies in the face of self-interest before, but Germany is guilty of this with surprisingly little need for persuasion. In fairness, the spoils are great, and against most opponents, his aggression would likely have earned him a place in the draw.
Fortunately, Italy and I have settled since the beginning that this will be a two power draw between us. Pinkie swear.
I even propose such draws a few times, but France kindly shoots them down (without me asking, or even being sure I wanted that, but whatever).
Fall 1904 Retreats
Russia retreats West, to my surprise, enabling me to use him in my early attack on Germany. This is wholly unexpected for Germany, and the fact that he's still trying to occupy his neighbors hurts him a great deal here.
Meanwhile, besides a pesky Black Sea fleet and fleet in Ankara, Russia's all but gone from the East.
Spring 1905
Italy begins the process of trying to advance into France, rather than merely moving closer to him. It's pretty interesting how this progresses.
France engages in some rather strong defensive play here, but Italy makes advances in the sea that begin the process of making it impossible for our opponents to ever create a solid defensive line in the Mediterranean (which makes a defensive line for them anywhere borderline impossible to hold for the long term). While France pushes Italy back in Piedmont, long term I think Piedmont will be impossible for him to hold; it is bordered by too many spaces that are under our dominion.
Germany, Italy, and I take the last Russian centers.
Germany and England are still fighting. There is something wrong with that. I'll leave you to figure out what.
Fall 1905
I help Russia into Berlin. Only being neighborly. I now have most of my military muscle either surrounding the Black Sea (which it needs to abandon) or surrounding Germany (which is about to become Austria).
While losing the Mid-Atlantic temporarily, Italy gets a bit lucky here and grabs his first piece of French land: Spain. He makes the interesting choice to move in via the North Coast.
Recognizing the importance of the Gulf of Lyons, France immediately cedes Piedmont back to Italy to take it.
Still, because he and England didn't bring the war with Germany to a close at an appropriate time, France must waste valuable manpower in taking Munich, an asset that (I think at the time) he cannot hold.
Spring 1906
Well, I'll be darned if Russia isn't working with France to keep me out of Munich. Figures. The ingrate!
Now I might be stuck for a little while. Fortunate that Germany controls Scandinavia, preventing any effort by the Westerners to actually secure Germany (which would have rendered my route to solo impassable).
Germany continues to do beautiful things in his apparent quest to ensure that no Western powers survives this game. Italy and I congratulate ourselves on our involvement in the beautiful chaos.
At this point, every Western power is fighting for their own survival, paying little attention to the others, while Italy actively preys upon (and messages deceptively with) France. All of this will be valuable later, as the 'all for one' mentality was never present in the Western half of this board through the entire game.
Also Italy lets Spain fall to France as part of his larger plan in the region, which I frankly never understood. I understand the sacrifice (sort of); I just never bothered to fully understand the plan, since my plan at this point was to stab Italy once I had enough centers to approach solo by stabbing him.
Fall 1906
Italy steals into Brest. Oh, that rogue!
French land defenses are impressive, but not impregnable, and the cracks begin to show. The setup here is one in which I calculate Marseilles and Munich inevitably fall.
The shame of it (from a neutral standpoint) is that with German and English help, I think this position is still salvageable. Without it, France is merely forestalling the inevitable.
Around this time (I'm really not sure when it starts), France messages Italy trying to convince him that I'll stab him and that he must turn on me first. France is correct, but he overplays his hand, trying to lie to Italy that I've offered to work with him in a stab of Italy.
This is a problem for Italian suspension of disbelief, because I've been explicitly encouraging (and to some degree helping to plan) the rapid destruction of France.
Knowing that France is such a strong player (he apparently bragged about his rank to Italy in trying to make his points persuasively), Italy and I come to the consensus that once France is dead, the other powers will agree to our two power draw (thus preventing us from having to invent an A/I stalemate line). This means French communications are effectively sound and fury, particularly when Italy doesn't believe the actual facts that France is alleging (since some of them were not true).
Just some insights from behind the curtain as to our thought processes, France, and why your messaging tactics did not work (though I feel if I hadn't had such extensive messaging with Italy, they might have).
Spring 1907
With some effort (and French military resources being overstretched), I finally take Munich. Italy continues advancing more fleets through the Med, and now has only one unit behind my lines, located in Constantinople. We've been engaging in coordinated bounces in the region, to prevent stabbing, but I have pushed for him to gradually move almost all of his units besides this one to the front lines.
Fortunately for me, my front line, in Germany, is close to the Italian and Austrian home centers, while the Italian front line is basically the Mid-Atlantic.
Fall 1907
I allow Italy to take Bulgaria, preventing me from enjoying my Munich build, but netting him another fleet. Overall, I think the alliance does well by this decision.
While I did intend to stab Italy for almost the entirety of our alliance, it was nevertheless a sincere effort to work together. Hence, such sacrifices on occasion made sense, and I think they were good for our mutual trust and morale.
Spring 1908
I make an advance into St. Petersburg that… I shouldn't rightly have been able to make; Germany has NMRed. I'm really glad this isn't how I won the game.
France, under attack by England and Italy, is a broken shell of its former self militarily. Tactically, the player remains strong. Strategically, the country is now all but irrelevant.
Italy takes Marseilles; England still has Brest.
Fall 1908
Germany NMRs again, but I don't really benefit from it this time, since all of his centers are closer to other people. That's life; I nonetheless take back the center I gave Russia, which is wholly unprotected with France in shambles and me in Munich.
I hit eleven centers, and I can tell that the critical moment when I will be able to stab Italy is drawing near. I want to have thirteen or fourteen when I do it, so that merely absorbing the Italian centers behind my lines will give me the win. I don't like to leave room for error, because I'm not that much of a tactician, and while I feel I do endgames reasonably well, I have ruined them before.
Spring 1909
I take the last German home center, entirely unopposed. Germany… reclaims Norway from England, and I think I may have laughed out loud when I saw this board. They are still fighting!
England has become an arm of Italy, because he has no confidence in the ability of the Western powers to stop us, and Italy offered to let him in on some of the centers we were taking from France. This is exceedingly short-sighted, but it helps us, so I don't mind it.
Italy is in Belgium… Mon Dieu!
Never have I had an A/I alliance work so successfully; France is quite justly frustrated by this point, I think, though he continues to be a good sport and play competitively and intelligently for the remainder of the game.
I quietly move my units into position for a stab of Italy in Fall. A successful alliance= an alliance that I can end sooner in order to claim the solo (yay!)
Fall 1909
Italian-ruled Belgium supports me into Kiel. What a wonderful world... but just like that, things turn upside down for Italy...
The best thing about this is that it happens as I move into Italian-controlled Serbia and Venice, and move all the other units I control that weren't necessary to hold Germany into the area around Turkey. Excellent. Everything went off without a hitch. I took three centers in a year, and prevented Italy from getting a build that might help defend him against this. This was the perfect moment in which to do this.
I calculate I will grab at least 2/3 of the Italian homeland, likely never to be recovered, by the end of this, and I'm happy even if Italy reclaims 1/3 of it, because it will distract him while I take control of Turkey (a critical foreign policy aim for me at this point).
I'm sure France is pleased; he was so convinced that I would stab Italy earlier that he posted a picture in the Public Press with the caption "There can be only one!" I message France to congratulate him on his prescience.
Also I finally get a second fleet.
Italy congratulates me on the stab, but notes that he and his comrades in the West will continue working hard to defeat me. I respond with a mix of joy and apprehension. I was actually worried Italy would take the stab rather hard, and I'm now happy he didn't, but worried about everyone allying against me. It's hard for me to tell, but I suspect that if everyone worked against me effectively, in unison, as though a single player controlled them, they could prevent my solo.
Of course that doesn't happen.
Spring 1910
I have great admiration for the team player
nature
inclination
capacity that Italy showed during our alliance, and I also respect his intelligence, which he demonstrated on many occasions during our collaboration, but there's no denying a simple truth here: he played this season badly.
In a season that saw me deploy my second fleet, take Italy's second home center, and advance more units toward both his homeland and Turkey, the only advance Italy makes against me is supporting France into Holland (which I frankly knew I couldn't hold forever; I needed Italy's support to take it in the first place).
Italy manages to alienate all of his apparent allies by occupying English and French territories, without consent in the case of at least the French turf.
These moves to further cement his conquest also prevent him from moving his units toward the front line with me, and I dare say that tactical error alone was enough to cost him the game by itself.
The fact that this also represents a fundamental misreading of the board, his allies, and the diplomatic climate is also worth noting. By making these move, Italy moved his units further away from me. He causes both France and Germany to jump into my lap after I communicate with them and ask them for help cementing the solo. And for perhaps the most astute player on the board, France, these moves cause him to give up hope, not just of stopping me, but also of holding onto his dignity as a major power.
I don't like to speak of things that people "deserve" in Diplomacy, because such talk sounds like nonsense. But people absolutely believe that they deserve certain things, and by the laws of logic, common sense, and basic norms of morality, players in an alliance understand that non-consensual seizure of lands is usually a just grounds on which to terminate that alliance.
When, as here, the alliance is one out of convenience and the sheer desire to survive, such a stab risks destroying the other players' desire to survive and work against the soloist (here me).
As we shall see, the Italian stab (in the very first season of the alliance against me) doomed that alliance from the start. I was actually very surprised such a smart player made this mistake (hence all the space spent on explaining why it was such a bad one).
Fall 1910
Oh my, yes...
France starts sharing Italy's discussions and proposed battle plans with me. He and I discuss some way that he may get back at Italy militarily, but we don't come up with much; all he has is Holland, after all.
I reach out to Germany to see if he'd also be interested in helping me out. Amusingly enough, he has also been somewhat alienated by Italy, and just as importantly, he sees the writing on the wall and is ready for the game to be over. Unfortunately, interference by England prevents it this season, but we plan for Germany to simply let me into Norway.
By the end of this year, I nevertheless control all of Italy's homeland and Ankara, while having units poised to seize Bulgaria next Spring and all of Turkey by next Fall.
Knowing Italy's plans proves instrumental in the Italian peninsula at least; I take a big risk on bouncing a move he makes into Venice using my unit already in Rome, a risk that Italy could not have known I would take, because I only took it due to knowing his plans. This enables me to free up Trieste for another fleet build, rather than using the army there to bounce with Italy's possible move (or to self-bounce).
If I hadn't obtained all of the Italian home centers, he'd have a build, which would have caused me no end of trouble. As it stands, he doesn't even have a destroy, because despite losing his homeland and failing to acquire any centers from me, he has absorbed multiple centers from his allies. As a strategic position, this is a poor one, though in the short term, I imagine it felt better than the alternative of moving all of his units towards me to (hopefully) lock me in a stalemate.
Spring 1911
Germany lets me into Norway. No one expected that, but now everyone can hear the fat lady singing (though almost everyone could before too).
I begin the final absorption of Turkey, which will finish in the Fall.
Italy reveals to me that he hasn't been able to spend as much time as he'd like on the game this past week, and I understand that's probably why his position has deteriorated as much as it has. He ultimately congratulates me warmly on the victory, and we part quite amicably.
France has his own opinions about what happened, which I hinted at above; I hope he, along with many of the other players in the game, may comment about what they saw happening throughout.
Fall 1911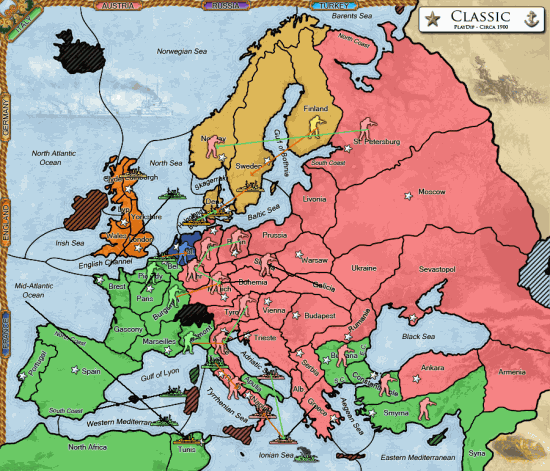 Victory! I should note, looking at the map, something I'm particularly proud of is that this is one of the few games in which, even assuming that one had to conquer the entire map to win, I'm fairly certain I would have ultimately won. There is a possible stalemate line that involves the Mid-Atlantic that could have been used to stop me, but my comrades Germany and France have fundamentally broken down the ability of the enemy alliance to cooperate against me, and I don't think there's a snowball's chance they would have unified to stop total European domination.
The takeaways here: While I am no great tactician, it is interesting to note that breaking your opponents' teamwork removes the necessity of using tactics on any deep level. This is obvious, but very difficult to do in practice. That might suggest that it is in one's interest not just to defeat enemy powers, but to actively promote a personal dislike (and, perhaps more importantly, distrust) between surviving players who might otherwise ally in future.
This too seems obvious, but is a little more… underhanded than I typically play. I also didn't do it here; I was just fortunate in that Italy rubbed France the wrong way, and Germany likewise felt disenfranchised to some degree by their opposition alliance, which meant that my messages requesting that they turn on Italy (or requesting specific help, if they had offered to turn on him already) were more likely to be met with a positive response.
Studying this game as a psychological experience, the most important thing is to gain someone else's confidence. Everything else comes second. I'm no great tactician, but this game is simple enough that with another player to point out where I err, I can thrive until the point where it's convenient to stab (and I tend to find endgame tactics much simpler). Thus, as long as I have one firm ally, I often feel as though nothing on heaven or earth can remove me from a position of relative strength.
Here, Italy was a great ally, so great that I didn't want to stab him. We got along well, and we looked out for each other's interests within the alliance (although a significant chunk of that was me laying the groundwork for my stab, since it was always somewhat inevitable).
Two fundamental truths rule how I play alliances in most games of Diplomacy: a beautiful lie is one that you half believe in yourself, and being invested in a relationship is the only way to make that relationship work.
When I'm allied with high level players in anonymous games, I might feel somewhat differently (knowing I'm playing with people renowned for stabbing others and soloing), but the extent to which my style of play differs (which I think is mostly subconscious) is relatively minor.
Building trust, and my opponents' inability to build trust in each other, is what gave me the game here. I put much faith in that. I pay attention to stalemate lines, but if one has planned for those, only the human element can ruin one's plans.
To close, I should note this was again merely my perspective, and I hope it won't upset anyone, particularly anyone who I participated in the game. I have great respect for everyone, and affection to some degree in proportion to how well I felt I knew each of you.
To quote Shakespeare:
If we shadows have offended,
Think but this, and all is mended,
That you have but slumber'd here
While these visions did appear.
And this weak and idle theme,
No more yielding but a dream.