ENGLAND - rafa_757
FRANCE - dmdreck (replacement)
ITALY - fabb0lt4
GERMANY - reclamant
AUSTRIA - thebige (2way DRAW)
TURKEY - Artur
RUSSIA - mappler (2way DRAW)
This was a fun game to play with some great players.
FALL 1901
Everyone opened with some standard openings. Things between Turkey and I got off to a rocky start right in F1901. With no coordination or message, he blocks me in Rumania. He sent me some press asking why I blocked him there. It was at this point I decided that I wanted to ally with Austria and not Turkey in the south. Miscommunication this early was not a good sign, and I didn't want to be the odd one out.
FALL 1902
Austria proved to be a reliable ally early. I supported him into Rumania in Spring 1902, and then he followed through and moved south in the Fall. We figured out we could work with each other. In the north, things were less clear. England totally messed up their orders giving me Norway. They lost a supply center, and failed to take anything in Europe. Italy and France were engaged, which was fine with me.
WINTER 1902
However, England does retreat to the Barents Sea. This is a problem for me, as I intended to focus on the south, and now I am forced to build in the north. I did not really want to build a fleet up north at this point, but such is playing Russia. Oddly, this is the last communication I receive from England until 1906. I'm not sure if he and Germany are communicating, but Germany and I are in good shape at this point. Germany has indicated he is conducting diplomacy on my behalf with Austria encouraging the alliance. If true, it is appreciated.
SPRING 1903
England makes a SECOND illegal order in a row. London is ordered to Belgium with no convoy. Perhaps the Germany navy was supposed to convoy that army? I'm not sure how this was supposed to have worked. Germany indicated to me that was not the case, but who knows. I also made an error in my orders, but mine actually worked out for me. Turkey's game is pretty much over at this point. Their only hope is an attack on Austria by Italy, who is completely tied up with France.
SPRING 1904
At this point, I have made alliances with both Germany and Austria. I am going to have to choose one or the other soon. I am feeling pretty good about my prospects until one of them turns on me. Italy is still having a terrible time with France, Austria is about ready to turn around, and I am making progress against England. However, once again, England moves to the Barents Sea. However, he is unsupported up there.
FALL 1904
England appears to surrender here. I thought this was the end of their story. However, that lone army hung around the rest of the game.
SPRING 1905
We lose France. The player is auto-surrendered. I think this is not good. Germany and Italy just got secure borders. Austria and I have our first crisis. The move to Constantinople was prearranged (to destroy the fleet). My move to Rumania was not. There was something in Austria's communication to me that made me nervous. Maybe it was that ALL of my units except two fleets were deployed west. I felt very vulnerable. Austria was concerned, but we worked through this. This was Germany's best chance to get me on his side, but I don't know if that was visible to him without seeing our correspondence.
FALL 1905
I make my final choice. Austria over Germany. This was probably the wrong choice if I was going to have a chance to solo. I think there was a moment a year or so from this point where I had a chance to stab Austria, but this for me was the big moment. Do I go to the end game with my ally from the start? I chose yes, and apparently so did Austria.
Somewhere in here we get a new France. Thank you for taking over the power. It was much appreciated. I'm not sure you had much of a chance to do a lot in this game.
F1908 - GAME END
Earlier draw proposals had been rejected. This one was accepted. England was down to a single SC (he held on!!) and Germany was down to 2.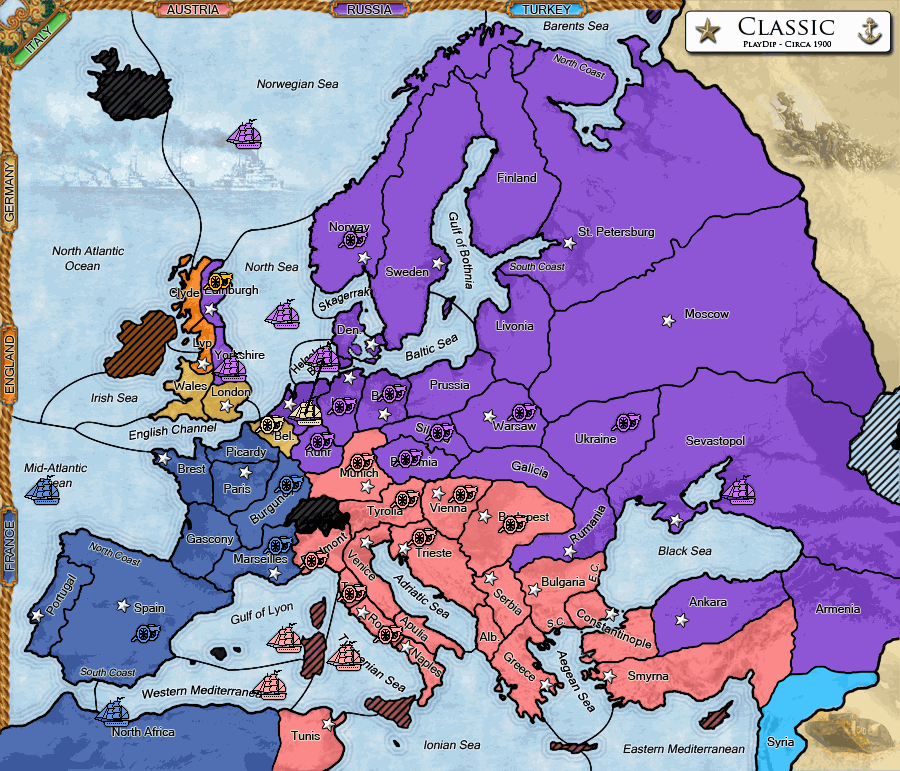 I think I could have made a decent shot at soloing this one. Austria was vulnerable in the rear. Honestly, I just didn't want to. I really enjoyed playing with this player, and we accomplished all of our goals in the game. I also really enjoyed playing with Germany. I felt bad when I chose against him and went with Austria. I think I would have had a better shot at a clear solo had a allied with him against Austria. But who knows, perhaps I would have just made Germany strong and created an angry Austria. I am happy with how this game turned out.
-Matt