I'm just getting started and will come back and finish this AAR later. Others feel free to pipe up before I am done. I will probably just edit the OP. (I am also going to feel too guilty if I don't write a couple of mentor game AAR comments before I do this one so it will be a bit.)
Normally when I write an AAR, I just focus on my game and a few highlights, but I think this game was so well played, it is worth doing a bit wider and deeper analysis. My perspective, of course, is shaped by what I was privy to as a player. Hopefully a few more players will flesh out the analysis.
This invitational included 6 of the top 11 finishers in the 2014 Classicist League. (There was a 5-way tie for 6th in the League.) I was, as dib called me during the game, the "wild card entry" who didn't really belong in the field. I hadn't yet finished a Classicist game when the 2014 League ended, but I thought having a "bowl game" for the leaders to celebrate the year was a good idea, and if I was going to organize it I might as well play!
I am glad I did. This was without a doubt the highest quality game I have played in my time at this site. Zero surrenders. Zero NMRs. 7 Star Ambassadors and all the communication that suggests. Most important, this had 7 strong players fighting hard the whole game. As a group, the table had a PureDip average rating of 1776 which, for comparison sake, would make it just above the strongest board in round 1 of the PDET.
I feel very fortunate to have nabbed a solo off of this board. In a game with 6 strong opponents, I tend to think the best you can do is look to create solo chances and see what happens. I got a chance and it came through.
Data Tables:
Some data on the game for reference. In the SC and tempi chart, the
bold, underlined
numbers are the leaders. Also, I copied a good idea from El Conq, I have included an analysis of messages, just to see what it looked like.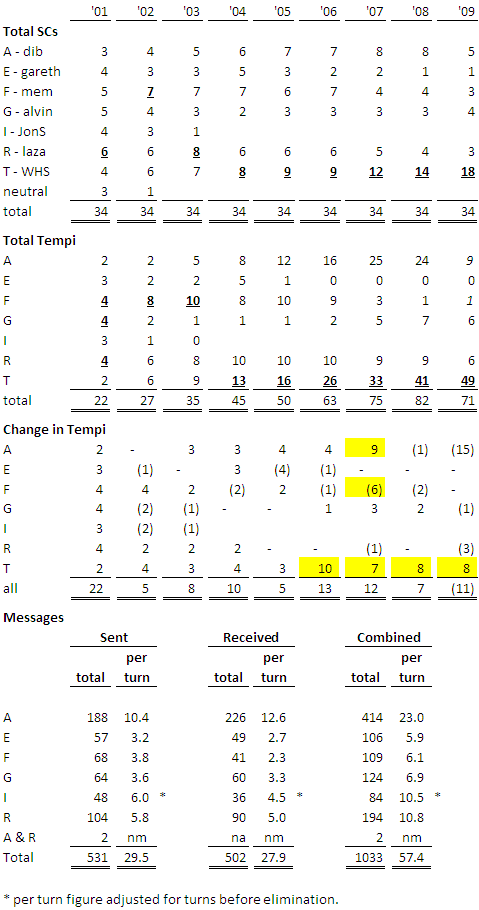 When calculating tempi, I use Windsor's method with some minor adjustments for "tempo-less" moves (e.g. Turkey move to Syr). Since it is cumbersome, I could have made some errors on tempi. The final year tempi tables are estimated assuming auto-disbands as needed. (Estimates in

italics

).
A couple of things to note. France came out of the gate very strong and I would say he was clearly the board leader through 1903. Mem was 2nd in SCs to Russia but was first in position. In 1904, Russian setbacks in the north and some good fortune for A-T in the Med moved us up from 4th and 3rd place, respectively, to 3rd and 1st. Turkey never looked back and the breakthrough in tempi starting in 1906 presaged the solo run.
No surprises with messaging - about 2x the communication with the eastern powers than the western and about 2x again with Austria my principle ally compared with the rest of the East. Of course the averages are a bit deceiving because they are taken over the entire game. There was a lot more going on between Turkey and the West in the mid-game and very little communication during my solo run.