This is an interesting variant I found through a variant bank. Rules are the same as regular diplomacy. If I can get nine players I will GM this.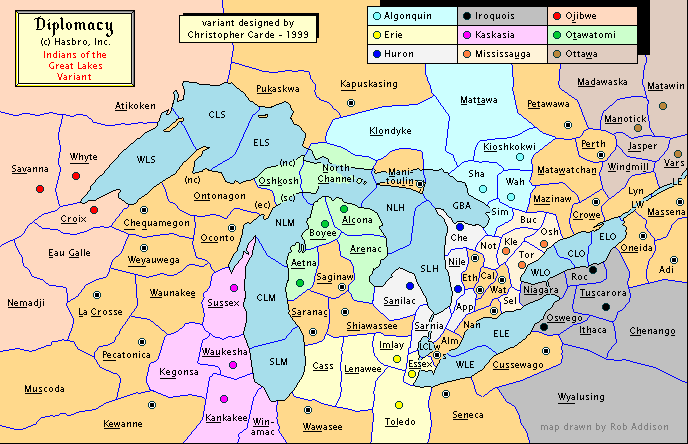 Tribes chosen on a first come, first served basis, so please post who you want to be when you sign up! However, those with indian blood will get their choice over other players. So, when we have nine players, those without native blood can get their prefered country if it is still open.
Tribes:
Iroquois- Malevolence (confirmed)
Otawatomi- attitudes (confirmed)
Algonquin- Elric Hazard (confirmed)
Erie- KnowForever (confirmed)
Huron- Sheddy (confirmed)
Kaskasia- 986690324 (confirmed)
Mississauga- diplofreak (confirmed)
Ojibwe- heritikyl (confirmed)
Ottawa- Cheesers52 (confirmed)
Reserves:
1. DiploNEV
2.
For the house rules: players will need 26 support centers to win. Draws will be DIAS. Countries will be chosen first come, first served. I plan on GMing this game as 3:1:1. I will try to send out 24 hour reminders, but if I don't, that is not an excuse for missing the deadline. For orders, please include the year and tribe in the title. I am very lenient on mistakes, and as long as I can understand what the player meant, I will process the order. I will also give players a 24 hour grace period starting at the end of the deadline. If the player has still not submitted their orders by that time, it will become an NMR. If a player NMR's on the first turn, they will be kicked from the game and a replacement will take over. If a player has two consecutive NMR's or three total, they will also be kicked.