I made this map recently and wish for several players to test it out. Standard diplomacy rules apply. I will GM this (my first GMing) so please be ok if I have delays getting the new maps up. The sides may be unbalanced as this is a test run. Here is the map.
We can't start until the 10th because freddafred has stuff going on. I like that guy so we will wait for a few days!
Here are the POWERS!
Elves -- 24turner1234
Gondor --diploNEV
Isengard -- Ecliptor
Mordor -- Freddafred
Rohan -- drrnwrstlr
Please sign up to play!
Players:
1.Freddafred confirmed
2.diploNEV confirmed
3.drrnwrstlr confirmed
4.24turner1234 confirmed
5. Ecliptor confirmed
Reserves:
1. this could be you...
2. this could be you...
Purple = Rohan
Red = Isengard
Yellow = Gondor
Green = Elves
Brown = Mordor
Countries assigned through random assortment!
Deadlines 4/2/2
Spring/Fall/Winter format for turns
Builds in any center you possess because of the limited number of starting centers.
3 NMRs total or 2 NMRs in a row will result in being kicked from the game. Please PM if you can't submit orders!
NOTES:
Willie900 wrote:1: what are river rules?
The river is a border in all cases EXCEPT:
1. Firien Wood DOES NOT BORDER Eastemnet
2. Snowbourne does not border Akiburg, Aldburg, Mouths of Entwash, and Edoras
Here are some clarifications on borderings:
1. Wold borders Limlight
2, Entwood borders derndingle
3. N.Gondor Borders Dunharrow and Aldburg
4. Mouths of Entwash borders Akiburg
5. Firien Wood DOES NOT BORDER Eastemnet
6. Flatlands borders both Snowbourne and Eastfold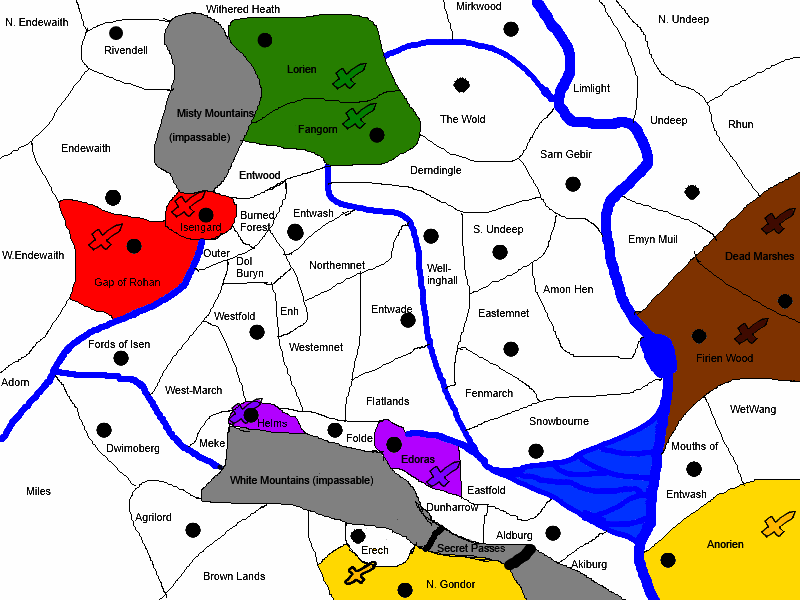 Any suggestions will be appreciated!