the newly trained armies and fleets head out to war, and war there is. Finland spreads its influence over West Dvina and northern Sweden. the East side of the Baltic is home to a number of bounces, and the Russo-Polish war grows in intensity, as the units get tangeled up and behind enemy lines. the Polish army in Brest was destroyed, and Russia now occupies two Polish centers--but is a greater power coming from the North?
Southern Sweden is peaceful, but in the North, Finnish and Swedish fleets battle for control of the seas.
interestingly enough, we are guaranteed to go into 1903 with a neutral center still neutral!
Map: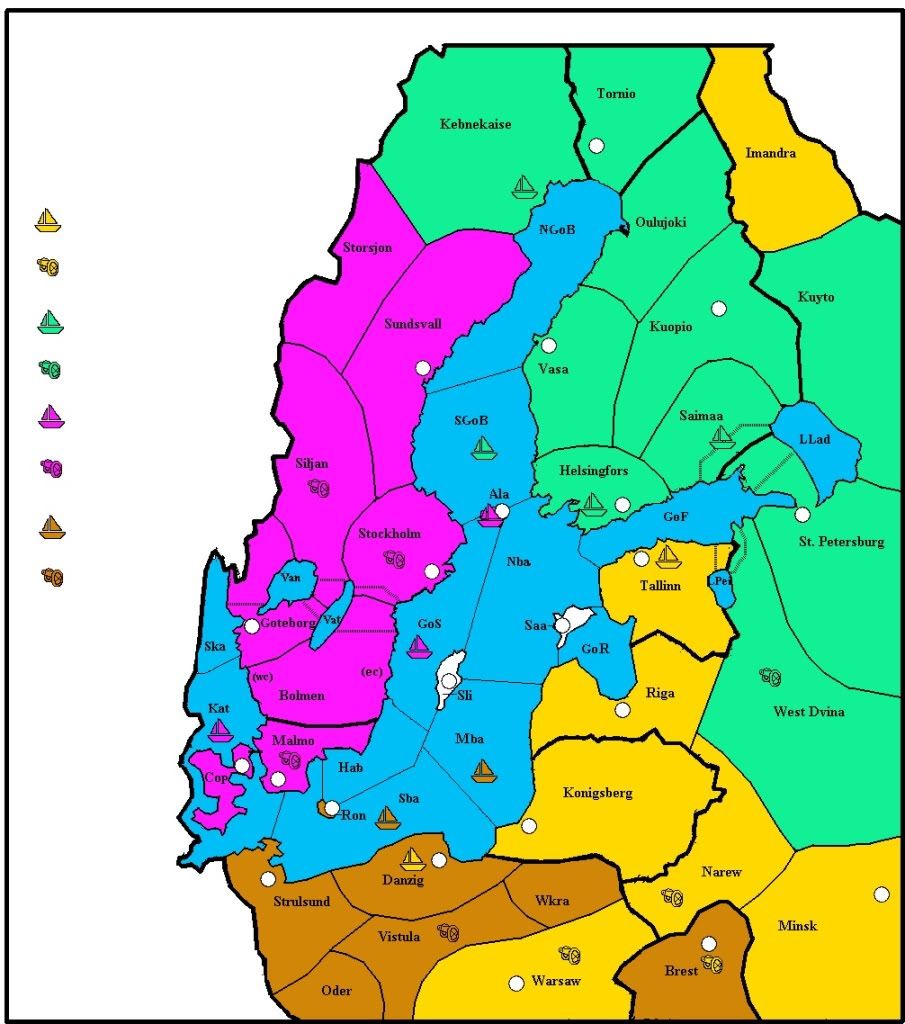 Orders:
Russia:
F Tallinn to Gulf of Finland--Bounced with "F Saimaa-GoF"
A Riga to Narew
A Minsk to Brest
A Warsaw support Minsk - Brest
F Konigsberg to Danzig
Finland:
A St. Petersburg-West Dvina
F Saimaa-GoF--Bounced with "F Tallinn to Gulf of Finland"
F Helsingfors-Nba--Bounced with "Ala-Nba"
F Vasa-SGoB
F Tornio-Kebnekaise
Poland:
F(Ron)-Sba
F(Sba)-Mba
A(Danzig)-Vistula
A(Brest)-Warsaw--Bounced with "A Warsaw support Minsk - Brest"--cannot cut support--dislodged--autodestroyed
Sweden:
Goteberg-Siljan
Sundsvall-Stockholm
Ala-Nba--Bounced with "F Helsingfors-Nba"
Stockholm-GoS
Malmo Hold
Copenhagen-Kat
the only dislodgement is at Brest, and it is an autodestroy, so we go directly into Fall 1902.
Fall 1902 Orders are due at 9:00 PM EST on Monday, December 5th
P.S.--not to rush you (and if you need the time, please take it), but if the orders come in earlier than that (morning EST Monday), I may be able to ensure that I get a map up with the adjudication, otherwise you may have to wait a week for the next map.
but please take the time if you need it--I don't want to rush you.