here it comes...the fifth installment for the great battle of the northern sea...four countries train their armies and build their fleets in order to take control. that's right! Baltic Five is here!
Starting Map: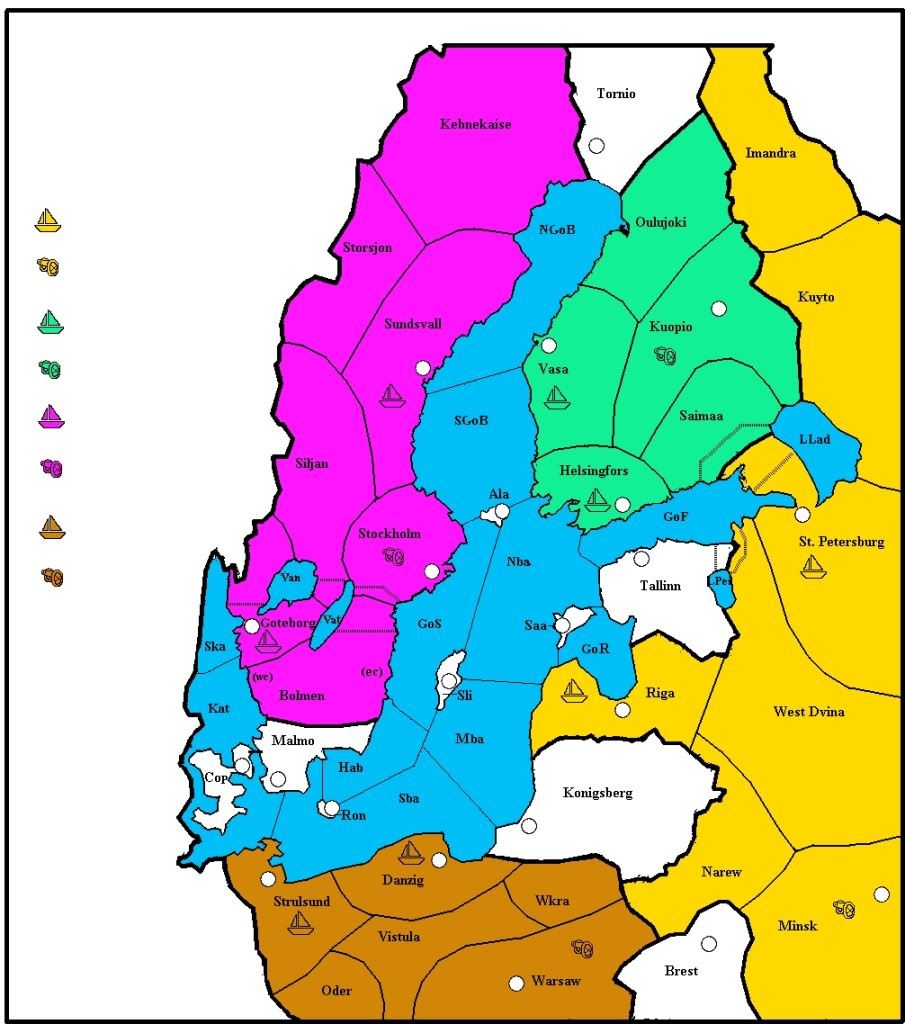 RULES
1.0 Rules are the same as Standard Diplomacy unless amended below.
2.0 Canals and Sea Zones:
2.1 St. Petersburg & Goteborg acts in the same manner as Kiel and Constantonople in Standard Diplomacy.
2.2 Bolmen is a the only province with two coasts. Orders must specify which coast a fleet is occupying.
2.3 There is a canal connecting Vat to GoS. This is the "Gota Canal." This canal is used in the same manner as the Volga and Suez canals in the Modern variant.
3.0 Powers & Starting Positions:
Sweden- A Stockholm, F Sundsvall, F Goteborg
Finland- A Kuopio, F Helsingfors, F Vasa
Russia- A Minsk, F St. Petersburg, F Riga
Poland- A Warsaw, F Strulsund, F Danzig
4.0 Winning Conditions:
4.1 There are 22 total supply centers. For a solo win, 15 supply centers must be under the control of one power for a solo win. A draw must be voted for only by surviving powers
5.0 Neutrals:
5.1 "Cop" Copenhagen, Denmark; "Ron" Ronne, Bornholm Island; Malmo; "Sli" Slite, Gotland Island; Brest; Konigsberg, East Prussia; "Saa" Saaremaa Island; "Ala" Aland Island; Tallinn, Estonia; Tornio.
6.0 Sea Zones:
6.1 "Ska" Skaggerak; "Kat" Kattegat; "Sba" South Baltic; "Hab" Hano Bay; "GoS" Gulf of Stockholm; "Mba" Mid-Baltic; "Nba" North Baltic; "GoR" Gulf of Riga; "SGoB" South Gulf of Bothnia; "NGoB" North Gulf of Bothnia; "LPei" Lake Peipus; LLad" Lake Ladoga; "Van" Vanern; "Vat" Vattern.
7.0 Provinces:
7.1 All supply centers were named after the major city or town in that area. All non-supply centers are named after a major geographical occurrence in the area (i.e. lakes, rivers, mountains).
Time:
we will have 3/1/1 deadlines, with doubled first phase, and speed deadlines. if you want, mark orders as "provisional" and they will be "un-finalized"
Orders:
be sure to title orders "[Country]--Baltic V--[Phase+Date]--[Provisonal?]"
Country Selection:
Country Selection will be Blind Auction (
http://www.playdiplomacy.com/forum/viewtopic.php?f=148&t=20967
)
EDIT: forgot to say: NMR Policy:
NMR on the first turn means immediate booting
two NMRs in a row means immediate booting
three total NMRs mean immediate booting
if you need to withdraw from the game, please wait until we find a replacement so the game can trasition smoothly.
Players:
Paulus
rick.leeds
diplomat42
Hakhamanish
Reserves:
Palin
Pedros