Fall 1846 Retreats
Posted:
15 Feb 2012, 11:44
*Bullets whistle and sabres clash* What is that idiot officer doing with a sabre anyways? Oh, he also has a revolver. Got it. *the lines are beginning to break* "Company B is falling back" *the bugler sounds retreat*
-Choose your own adventure. Do you A attempt a fighting retreat, marching backwards while firing, or B ditch your musket and run for it?
One retreat needed from
Great Britain
I'll need the retreat order by Thursday at 1600PST or 2400GMT
Also at the end of the retreat phase only
Texas
will have any orders to issue in Winter, so if Presser84 wants to get those in now that's fine (you'll have a build).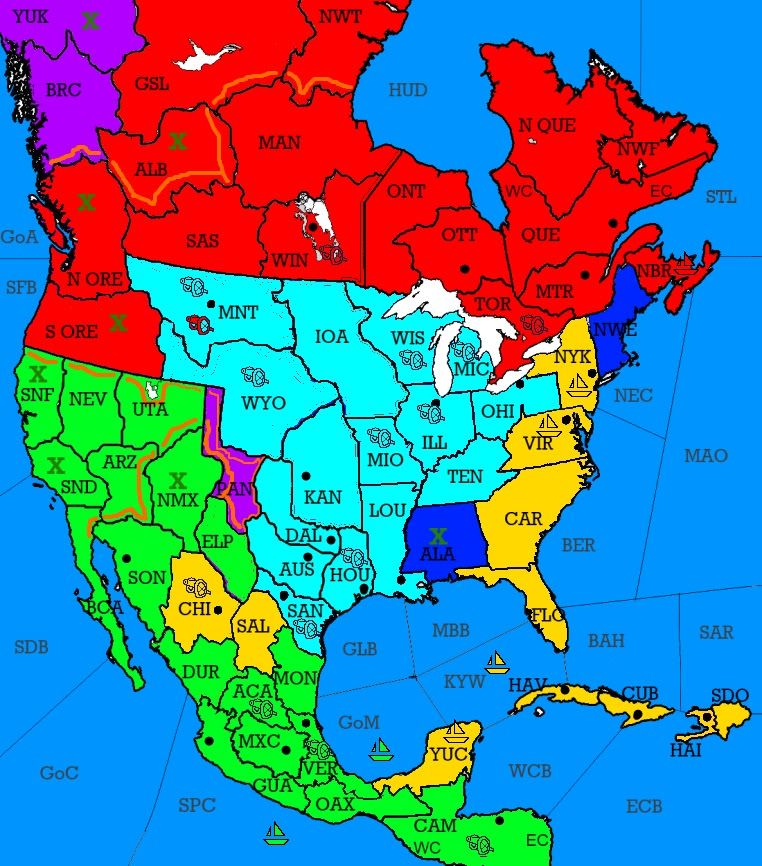 13/24 SCs needed for Victory
4/6 NUs remaining
Orders were:
Great Britian
-haroonriaz
A (MNT) s A (WIN) H
Displaced, Retreat Needed
A (WIN) s A (MNT) H
Support Cut
A (MIC) - TOR
F (NBR) H
Mexico
-Asudevil
F MON-GOM
A OAX-CAM
A VER - YUC
Bounced 1v1
F SPC support A OAX-CAM
A MXC-ACA
Spain
-Mat.gopack
Sal-Chi
Yuc-Cam (ec)
Bounced 1v2
KYW hold
NYK S Vir hold
Vir S NYK hold
Texas
-Presser84
WYO S IOA to MNT
IOA to MNT
WIS to WIN
Bounced 1v1
OHI to MIC
ILL S OHI to MIC
HOU S SAN to HOLD
SAN HOLD
LOU to MIO