Imperium
The Roman Empire has fallen and it has left its wealth completely unguarded. Perfect for you to swoop in and take it. Unfortunately 5 other people have the same idea and they might not want to share. Valhalla knows that you don't. Furthermore there is an added problem. You don't have any supply centers. You have three armies roving around, which if not paid by the end of the first year, they will reject your leadership and disband. As an added bonus, since you are a nomadic roving tribe of barbarians, you can build anywhere.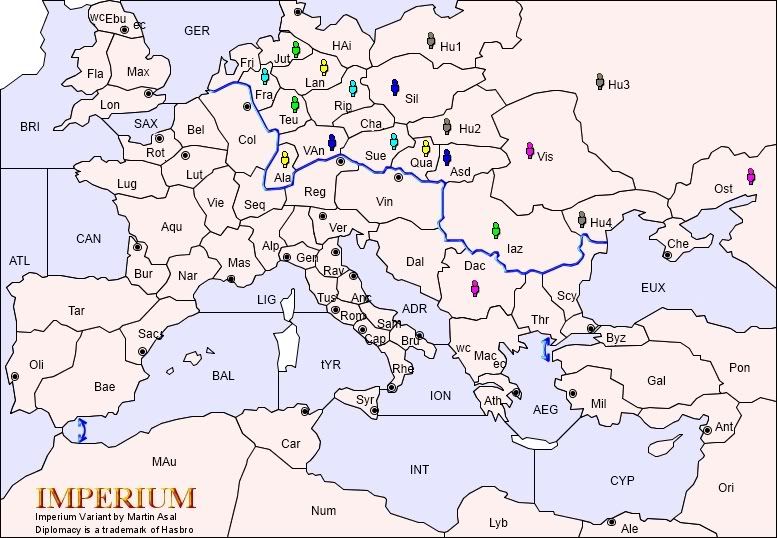 Victory is based on 50%+1 and for this game that means 15 SCs for the win.
I will try to keep this game at a 72/24/24 schedule, with an effort at speed deadlines.
Sign ups are open, Tribes will be distributed at random. They are the Alamanni (Yellow), Franci (Light Blue), Gothi (Pink), Hunni (Gray), Saxones (Green), and Vandali (Blue)
1.Cheesers52-Confirmed 2B
2.Willie900-Confirmed 1A
3.Diplomat42-Confirmed 1A
4.Ninjaruler-Confirmed 1A
5.Pedros-Confirmed 1A
6.Palin-Confirmed 1A
Full River Rules it is. Please make sure you are acquainted with them by the time we start.
Alternates
1. AsuDevil
Also a Thank You to Hasbro for the Game and Martin Asal for the Variant.
So I had to do a little more digging to find the river rules, but basically
1. When two armies enter the same province, if one army is crossing a river that army bounces and the army on the same side of the river takes the province.
2. You cannot support an attack on the other side of the river (if you're supporting a river crossing you have to already be on the side crossed over to).
3. You cannot cut a support that originates on the other side of the river.
4. You cannot retreat across a river.
These rules also apply to the sea crossings. Fleets cannot use them to travel inland, but are not hindered by them and can treat them as normal borders.
If we develop a consensus that we want to use the extra rules, we will, but since I didn't start with them posted already it will have to be a community decision to include them.