Reconquista
Fall 1150
Quite a chaotic year!
Orders:
Portugal: Robert Gesualdo
F Atlantic M Oporto
A Coimbra S F Atlantic M Oporto
F Lisbon M Silves (bounce w/ Gulf of Cadiz)
Leon: musashisamurai
Duoro move to Lisbon
Galicia move to Oporto (bounce w/ Atlantic Ocean)
Salamnca hold
Castille: Morg
Rioja -> Pamplona
Guadalajara S Valencia H
Valladolid -> Leon
Calatrava -> Avila
Aragon: ninjaruler
gulf of lion move to Palma
Zaragoza support rioja to Pamplona
Valencia hold
Almohads: Beregon
Evora support Duoro to Lisbon
Gulf of Cadiz move Silves (bounce w/ Gulf of Lisbon)
Strait of Gibraltar move Western Mediterranian
Huescar move mentesa
Mentesa move Calatrava
Alarcos support Mentesa to Calatrava
Badajoz support Mentesa to Calatrava
Jerez support Badajoz
Denia move Valencia (bounce w/ Valencia)
Map: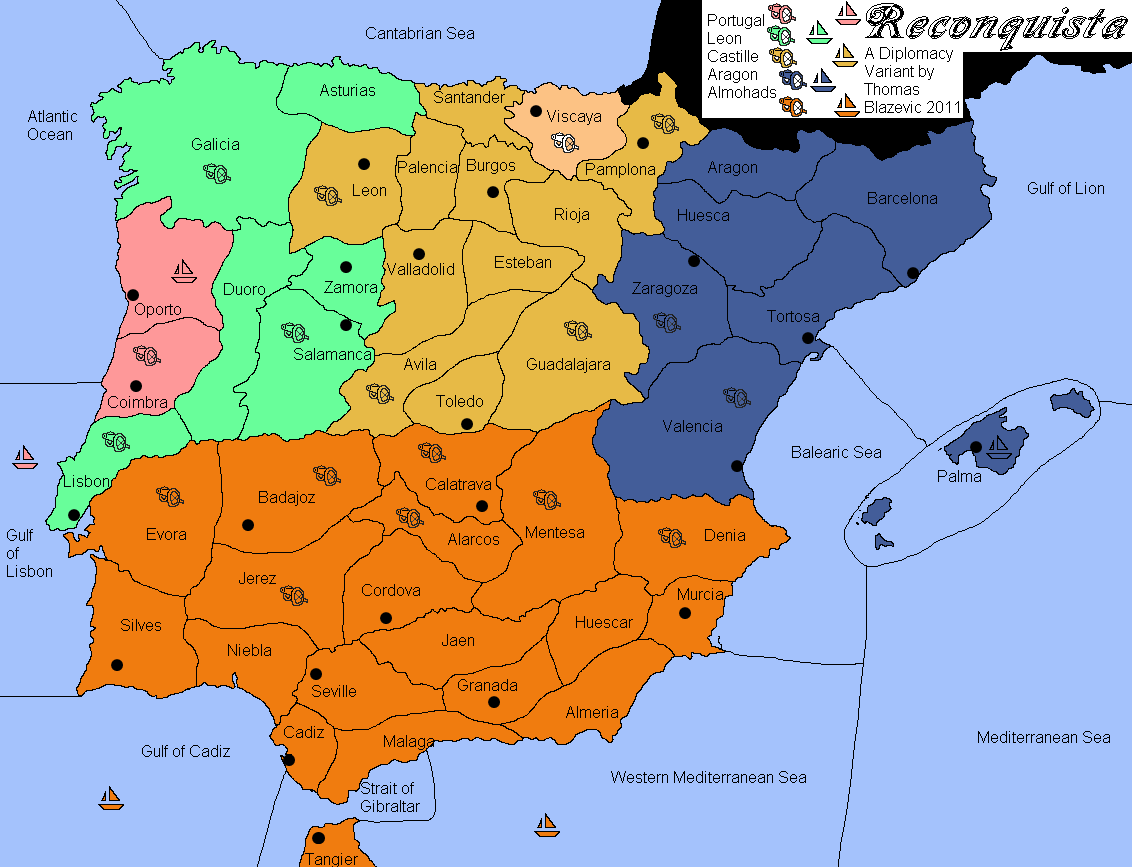 Builds:
Portugal -1
Leon 0
Castille +1
Aragon +2
Almohads 0
Builds are due ASAP. I'm leaving for vacation so the map won't be up until July 5th though. If I don't have your orders by then I won't be taking any excuses.